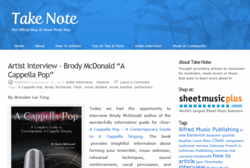 As a musician myself, I find it interesting to get the inside scoop as to how these industry greats got to where they are today, and how this can be applied to musicians trying to follow in their footsteps
Emeryville, CA (PRWEB) September 26, 2012
Sheet Music Plus, the premier destination for online sheet music, believes in connecting people through music. With the launch of Take Note, musicians have a fresh channel to learn new techniques from fellow musicians, read exclusive interviews with veteran artists in the music industry, and read about the positive impact musicians around the world are having on their local communities.
"We take pride in the fact that our articles are written by musicians, for musicians or anyone who would like to learn more about it," said Take Note staff writer, Brendan Lai-Tong. Take Note offers a growing series of How-to guides featuring topics from improving vocal range, to boosting music memorization, and tips on how to practice efficiently. The complete collection of "How-to" guides for musicians may be found on the Take Note blog.
" As a musician myself, I find it interesting to get the inside scoop as to how these industry greats got to where they are today, and how this can be applied to musicians trying to follow in their footsteps," said Lai-Tong. A recent interview with industry great, Professor Dennis Alexander, unveiled Alexander's unique approach to musical composition. Alexander attributes part of his talent for composing to having a supportive piano teacher who did not discourage improvisation.
Read the complete interview with Dennis Alexander and catch more inside stories from distinguished artist Brody McDonald, author of the book, A Capella Pop - A Complete Guide to Contemporary A Capella Singing by visiting the "Artist Interviews" section of the Take Note blog.
Spanning the globe, Take Note's "Music in the Community" series showcases ways musicians have positively influenced their communities through music. The "Music in Community" series covers cultural stories of musicians of all ages from around the world. A recent article profiled music students participating in The Nile River Music Festival. The series also brings to light the successful journey of one small town in Italy's struggle to integrate music into the school curriculum, and to form a school band on a tight budget dependant on volunteer support and fund raising.
SheetMusicPlus.com honored both Khartoum International Community School Band of Egypt, and the Acchiappanote Band of Italy, for bringing joy to the community through excellent musical performances and awarded each band with a $75 Sheet Music Plus gift certificate. Visit Take Note and read more from "Music in the Community" and share inspiring musical stories with fellow musicians and friends.
ABOUT SHEET MUSIC PLUS
Sheet Music Plus is located in the San Francisco Bay Area, and delivers music worldwide. Sheet Music Plus began in 1997 with the purpose of offering musicians a full spectrum of sheet music, with fast delivery and trained musicians offering customer service. Today, Sheet Music Plus is the home of the world's largest sheet music selection and a source for music books, music sheets, songbooks, music scores, choral sheet music and more. From piano sheet music to flute sheet music, choral sheet music and octavos to guitar tabs, Christian sheet music to Jazz sheet music, and beyond, there are more than 800,000 titles to choose from including music from more than 1,000 publishers, and all major European publishers.