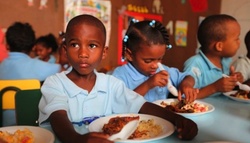 But now new problems were added to old ones. There were even more Haitian orphans.
Irvine, CA (PRWEB) June 26, 2010
Last October Shelene Bryan and her Skip1 team of volunteers were deep inside Haiti and the Dominican Republic delivering food packages to very poor, very hungry, children throughout several schools and orphanages. Little did they know, the living conditions that seemed already unbearable were about to get much worse.
After the January 12, 2010 earthquake Shelene Bryan, founder of Skip1.org, was determined to return to the schools and orphanages they visited in October. Thoughts of the children she had met being in even worse conditions haunted her. On May 24th her fears were put at ease. Shelene and the Skip1 team returned to find the schools and orphanages in tact and all of the children safe.
But now new problems were added to old ones. There were even more orphans to care for. Many had been moved from Port au Prince to safer areas, including inside the Dominican Republic. One school in particular, Lumbrera de Caballona in Santiago, now had over 100 children sharing three small classrooms. Worst of all, most of these children go through the day unfed. No breakfast, no lunch. Some are lucky to even get a meal at night. The Skip1 volunteers brought the children lunch the day of their visit. It was the first meal served at the school since it opened over three years ago. The teachers shared how the children often struggle to focus and learn because they are so hungry. The school had been trying to gather enough money to build a kitchen on site, but funds were non-existent.
Shelene Bryan left determined to make a difference for Lumbrera de Caballona. The school told her it would take $6,500 U.S. dollars to build a kitchen big enough to serve the 100 children. They also said it would cover new bathrooms with three toilets and sinks. The children currently share one toilet and one broken sink in a bathroom without a door.
Skip1's fund raising campaign for Lumbrera de Caballona launched June 16th, with Shelene Bryan speaking about it at a Chapman University event in Orange County, CA. Shelene says, "The response has been wonderful, with most people amazed at how far the U.S. dollar goes in places like Haiti and the Dominican Republic." She believes they will meet their goal in the next 45 days. She states, "The faster we can get this kitchen built, the faster these beautiful children can get relief. There's no time to lose."
###