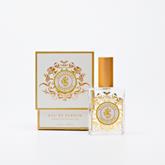 Not only are all of Shelly Kyle's fragrances fabulous, but the French and European influence behind the Shelley Kyle packaging with the feminine details and personal touches make women feel pampered
Duluth, Georgia (PRWEB) May 02, 2013
Peace, Love & Decorating expands its Shelley Kyle Parfum line of luxury home and personal fragrances and women's bath and body products to include Shelley Kyle Ballerine, the latest scent from Shelley Kyle's line of women's fragrances. Shelley Kyle products are produced in Atlanta and handmade to order with natural ingredients using European techniques, guaranteeing high quality and luxury fragrance products presented in the Shelley Kyle signature packaging.
In addition to Shelley Kyle perfumes, her line of women's luxury bath and body is well known for her linen powder and shimmer body powder available with her vintage-inspired powder puffs. Shelly Kyle's products are often mentioned in the top home decorating and specialty women's magazines including Southern Living, Southern Living Wedding and Traditional Home.
"Shelly Kyle is inspired by vintage European and French influences and the goal of delivering handcrafted, original fragrances made with pure ingredients to the luxury women's bath and body marketplace which makes the Shelley Kyle line an ideal fit for our online store and brick and mortar boutique customer," explains Peace, Love & Decorating co-founder Jana Contardi.
"Not only is the Shelley Kyle product wonderful, but Shelley's product presentation is amazing. We are in love with the Shelly Kyle's Linen Powder with its shaker top, signature powder puff and crystal dish, " states Peace, Love & Decorating co-founder Jennifer Cook.
Ballerine is the newest scent from the Shelley Kyle fragrance collection. As its name implies, the allegro dance of the ballerina is the inspiration for the Ballerine fragrance. The primary fragrance tones of rose, lily of the valley, jasmine and sea blue amber give the Ballerine fragrance the luscious, and invigorating feel of springtime. With the addition of Shelley Kyle Ballerine, Peace, Love and Decorating now carries the complete Shelley Kyle line ranging from home and personal fragrances to bath and body products to luxury women's gift sets.
Shelley Kyle scent, Ballerine, joins the top selling Shelley Kyle Tiramani fragrance. Tiramani, a sweet blend of citrus and floral with hints of blood orange, Madonna lily, white nectarine, cashmere musk, and night blooming jasmine. Other original Shelly Kyle fragrances include her Signature scent, Shelley Kyle, as well as McClendon, Annabelle and Sorella.
"We love the inspiration and luxury of all Shelley Kyle products and fragrances, but the new Ballerine scent is definitely a special fragrance, perfect for spring and summer," says Contardi. "The Ballerine floral hints balance perfectly with the deeper undertones of sea blue amber, for a fragrance that is both light and layered," adds Cook.
Shelley Kyle products are available with Free Shipping on Shelley Kyle orders over $50 from http://www.peaceloveanddecorating.com or visit the Peace, Love & Decorating retail store located in historic downtown Duluth, Georgia, just thirty minutes north of Atlanta, at 3129 Main Street.
Peace, Love & Decorating was founded by Jana Contardi and Jennifer Cook to bring their customers the top boutique brands of home furnishings and home decor, designer lighting, vintage-style bedding, luxury bath and body products, handcrafted women's jewelry, and boutique women's fashion accessories. Peace, Love & Decorating also offers an exceptional selection of unique gifts for all occasions including weddings, baby, birthdays and much more.
For more information on Peace, Love & Decorating or Shelly Kyle Parfum, please contact Jana Contardi by email at info(at)peaceloveanddecorating(dot)com or by phone (888-808-3267).