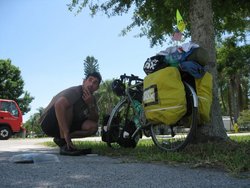 This time, if I can do something for somebody else, if I can inspire someone, I should try
Lakewood Ranch, Fla. (Vocus) July 16, 2010
Jake Tavakoli, 24, will have biked 48 straight days this Saturday as he pulls into his hometown of Quincy, Massachusetts. Tavakoli biked more than 1,700 miles to help raise awareness for ShelterBox, an international organization which specializes in providing family tents and life-saving supplies after a disaster.
Tavakoli, who made a similar trip last year simply because he could, wanted to make a difference this time around.
"This time, if I can do something for somebody else, if I can inspire someone, I should try," said Tavakoli.
Having earned his Eagle Scout as a teen, Tavakoli has travelled the entire distance without a GPS while relying on a simple map and compass.
"Motivation, dedication, and perseverance are the three pillars which I have begun to model any task around," said Tavakoli. "I think i've done a pretty good job."
Tavakoli left his grandfather's home in Venice, Florida on July 10. All he takes with him is his bicycle and 60 pounds of equipment including a tent and freeze-dried food. On the road, he stays in camp grounds or with friends he made along the way. He said his passion for helping others in their time of need keeps him on what he calls "The Long Ride for Change."
Tavakoli has been raising awareness and funds for ShelterBox during his ride. ShelterBox is an international relief organization that responds to disasters by sending boxes filled with family tents, water purification, blankets, tools, a cook set, stove and other essentials. The organization, which has been delivering aid in Haiti since the second day after the earthquake, has sent more than 22,000 ShelterBoxes to the earthquake stricken country in addition to responding to 14 disasters since January alone.
Veronica Brandon Miller, executive director for ShelterBox USA, said people like Tavakoli are what make ShelterBox such an amazing organization.
"From the highly trained ShelterBox Response Teams that volunteer to hand deliver our boxes into the field to the people who donate their time to pack the boxes before a disaster, our organization continues to grow due to the dedication of people like Jake," said Miller.
Individual tax-deductible donations to ShelterBox USA can be made at http://www.shelterboxusa.org. To donate in tribute to Tavakoli's cause, signify the donation to go in tribute to "The Long Ride for Change: Jake Tavakoli." For information or to make a contribution by phone, please call 941-907-6036.
About ShelterBox
Since its inception in 2000, ShelterBox (http://www.shelterboxusa.org) has provided shelter and dignity following over 100 disasters in more than 70 countries, bringing the organization to the forefront of international disaster relief. ShelterBox instantly responds to earthquake, volcano, flood, hurricane, cyclone, tsunami or conflict by delivering boxes of aid. In many cases, ShelterBoxes have made the difference between life and death.
Each ShelterBox supplies an extended family of up to 10 people with a tent and lifesaving equipment to use while they are displaced or homeless. The contents are tailored depending on the nature and location of the disaster, with great care taken sourcing every item to ensure it is robust enough to be of lasting value. Highly trained ShelterBox Response Teams distribute boxes on the ground, working closely with local organizations, international aid agencies and Rotary clubs worldwide.
Contact:
Alan Monroe
P: 941.907.6036
###