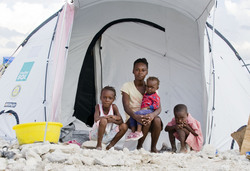 The conditions were squalid and every time it rains the ground just turns to muck
Lakewood Ranch, Fla. (Vocus) July 12, 2010
Six months after the world was rocked by one of the worst disasters it has ever witnessed, the huge financial commitment to rebuilding permanent shelter has had little impact for the hundreds of thousands of families displaced by the earthquake.
As land ownership issues and logistics delay the massive rebuilding efforts needed, the basic tarpaulin shelters received by the majority of those made homeless is proving little match for heavy rains and the impending hurricane season.
Additional strain is put on the capital, Port-au-Prince, as host families are unable to support those who lost everything and people are migrating back to the struggling city.
ShelterBox Response Team volunteer, Per Dahlstrom (CA), described the situation as "real misery".
During his recent trip to Haiti, distributing ShelterBox disaster relief tents, he witnessed the football-pitch sized camps where in five foot by five foot areas families had just a tarpaulin held up with branches to call home.
"The conditions were squalid and every time it rains the ground just turns to muck," said Per.
Phenomenal resilience
These heavy rains are now a daily occurrence, washing the streets with litter and posing further risk through the spread of diseases.
Per worked to provide shelter for orphans who were returning to the city as their host families struggled to cope – returning to the only stability they know, the school they attended before the earthquake but those are now just a distant memory.
"The resilience of the Haitian people is phenomenal," said Tom Henderson, ShelterBox Founder and CEO, "but they're still in desperate need of our help. The shelter provided by tarps isn't safe, isn't secure and will not stand up to the heavy winds and rains we can expect in the hurricane season."
The ShelterBox disaster relief tent undergoes extensive testing. The tent and its poles are tested in wind and rain tunnels, with winds reaching up to 120kph. In Haiti, tens of thousands of families are now rebuilding their lives in these tents. The first of these tents were erected in January and they remain to be a secure, safe shelter for thousands of families whose only alternative is a tarp or a transitional shelter that has not been built.
Destruction beyond belief
The response to the Haiti earthquake has been the biggest, longest and most complex in the ten-year history of the international disaster relief charity.
The first ShelterBox Response Team (SRT) was mobilized 12 minutes after the earthquake struck. Now, six months later, 22,192 ShelterBoxes have been delivered in Haiti, enough aid for more than 220,000 people.
"This has been the most challenging disaster we've ever had to face. The scale of the destruction was beyond belief," said Tom Henderson.
More than 50 highly trained SRT members, from all walks of life, have now worked in Haiti for ShelterBox.
One of the SRT members who spent time in Haiti is Bill Decker, current chair of the ShelterBox USA board of directors and business owner in Philadelphia.
"Huge Difference"
"With the intensive training and on-the-ground experiences we receive as SRT, nothing quite prepares one for the wholesale damage and widespread hardship that is evident at every turn in Haiti," said Decker.
"The households and businesses in rubble, especially near the epicenter in Leogane, was beyond anything I've ever seen. I felt like what I was doing as an individual was only a drop in the bucket, but then I realized that I couldn't drive past these affected areas without seeing a ShelterBox tent with a family inside and I knew that our teams have made a huge difference."
ShelterBox is committed to doing the most for the most and delivering aid to families who are most in need. To this effect, ShelterBox has formed close, working relationships with partners such as the International Office for Migration, the French Red Cross, Handicap International, the Jenkins/Penn Haitian Relief Organization and ACTED in order to distribute to the most vulnerable demographics.
Tom Henderson added: "Our staff, volunteers and supporters the world over have worked tirelessly, with dedication, passion and commitment, to deliver emergency shelter and life saving supplies to thousands of Haitian families. Wherever you look in Port au Prince you can see a ShelterBox tent.
"This wouldn't have been possible without the overwhelming generosity of our donors. The earthquake moved people to act, and act they have, in a way we have never witnessed before.
"During the coming months we'll be sending another 5,000 ShelterBoxes into Haiti which will give families the safe, secure shelter they need to start rebuilding their lives."
Individual tax-deductible donations to ShelterBox USA can be made at http://www.shelterboxusa.org or via text message by sending SHELTER to 20222 for a one-time $10 donation. For information or to make a contribution by phone, please call 941-907-6036.
About ShelterBox
Since its inception in 2000, ShelterBox (http://www.shelterboxusa.org) has provided shelter and dignity following over 100 disasters in more than 70 countries, bringing the organization to the forefront of international disaster relief. ShelterBox instantly responds to earthquake, volcano, flood, hurricane, cyclone, tsunami or conflict by delivering boxes of aid. In many cases, ShelterBoxes have made the difference between life and death.
Each ShelterBox supplies an extended family of up to 10 people with a tent and lifesaving equipment to use while they are displaced or homeless. The contents are tailored depending on the nature and location of the disaster, with great care taken sourcing every item to ensure it is robust enough to be of lasting value. Highly trained ShelterBox Response Teams distribute boxes on the ground, working closely with local organizations, international aid agencies and Rotary clubs worldwide.
###