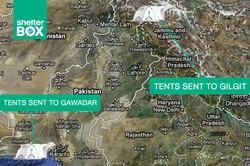 The damming of the Hunza river has displaced around 40,000 people and IDP (internally displaced people) camps have been set up in the area
Lakewood Ranch, FL (Vocus) June 24, 2010
A cyclone in the south and rising flood waters in the north; this is the scene in Pakistan and thousands of families are in need of emergency shelter.
ShelterBox Response Team (SRT) member Mark Pearson is in the country coordinating the distribution of 1,900 disaster relief tents to Gawadar, in the south, and Gilgit, in the north.
Gawadar was hit hard by Cyclone Phet in early June with heavy rains forcing thousands of people to flee their homes as the city was submerged by the downfall. The Rotary Club of Karachi requested ShelterBox's immediate assistance to help provide emergency shelter to the displaced families.
In the north, on Januray 4, 2010, a massive landslide in Attabad – Hunza blocked the flow of the Hunza river and destroyed two villages. The huge mass of rocks blocked the river, effectively damming up the entire area and creating and ever-rising lake.
Throughout May, the situation became worse, as the monsoon season began and rising temperatures caused melt water to flow into the lake from the mountains.
Alarming situation
"The damming of the Hunza river has displaced around 40,000 people and IDP (internally displaced people) camps have been set up in the area," said Pearson before he left.
"As well as the rising water levels forcing more and more people to leave their homes, the dam could burst at any time and the whole area has been on red alert since January. The situation is becoming more alarming each day as the dam fills up with glacial melt water and rain."
Mark will be working with local Rotarians, the District Coordination Officers, the NRSP (National Rural Support Programme) and FOCUS humanitarian assistance to ensure the effective distribution of tents to families most in need.
Individual tax-deductible donations to ShelterBox USA can be made at http://www.shelterboxusa.org or via text message by sending SHELTER to 20222 for a one-time $10 donation. For information or to make a contribution by phone, please call 941-907-6036.
About ShelterBox
Since its inception in 2000, ShelterBox (http://www.shelterboxusa.org) has provided shelter and dignity following over 100 disasters in more than 70 countries, bringing the organization to the forefront of international disaster relief. ShelterBox instantly responds to earthquake, volcano, flood, hurricane, cyclone, tsunami or conflict by delivering boxes of aid. In many cases, ShelterBoxes have made the difference between life and death.
Each ShelterBox supplies an extended family of up to 10 people with a tent and lifesaving equipment to use while they are displaced or homeless. The contents are tailored depending on the nature and location of the disaster, with great care taken sourcing every item to ensure it is robust enough to be of lasting value. Highly trained ShelterBox Response Teams distribute boxes on the ground, working closely with local organizations, international aid agencies and Rotary clubs worldwide.
###