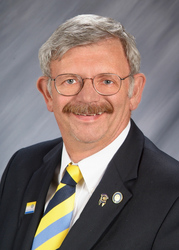 This has been a very busy year for ShelterBox. Since January of this year, ShelterBox has responded to 10 disasters and helped to shelter up to 180,000 people.
Lakewood Ranch, Fla. (Vocus) May 21, 2010
ShelterBox USA board member, Jack Young, follows the principle that life is about helping those less fortunate. He claims he gives back in his own small way, but Young is a man who has a positive impact on the lives of many in his home state of Ohio and of disaster survivors around the world. This passion for service was recognized by the President of Rotary International and last month Young was presented with the distinguished Service Above Self Award, an award only given to 150 people around the world each year.
Service is a passion for Young, a long time Rotarian and Past District Governor for his district 6630 in Ohio. For several years, Young has devoted this passion to ShelterBox USA, the only disaster relief organization to specialize in providing shelter and life-saving equipment to disaster survivors around the globe. During his time as a board member, Young has seen ShelterBox USA grow tenfold in its effort and ability to provide assistance to those who have lost everything.
"This has been a very busy year for ShelterBox," said Young. "Since January of this year, ShelterBox has responded to 10 disasters and helped to shelter up to 180,000 people."
In addition to Young's involvement with ShelterBox, he has been instrumental in working with an impoverished community in Nicaragua. Each December, Young and other Rotarians lead a trip to distribute thousands of shoe boxes filled with school supplies, toiletries, an outfit, flip flops and a toy to children recommended by their teacher. Young said more kids go to school for the hopes of receiving a box.
"It's the only Christmas present, these children receive," said Young. "A solid education will help to break the poverty cycle in their community."
In addition to providing school shoe boxes, Young has been instrumental in sending a fire truck and two ambulances to the community. In all, Young's Rotary District has sent over $500,000 of medical supplies, children's shoe boxes, and emergency vehicles to Nicaragua.
Young was appointed to special positions within his zone by three Rotary International Presidents. Young was the Rotary Zone 28 membership coordinator for 2007-08, the Zone 28 Literacy Coordinator for 2008-09 and the Literacy Coordinator for Zone 29 for 2009-10.
John Kenny, Rotary International President, said it was a pleasure to award the Rotary Service Above Self Award to Young. The award is only given to up to 150 people around the globe each year. Young is only the second Rotarian to receive this award in his Rotary district.
Kenny said, "I believe (Young) is an extraordinary example of how each Rotarian can make a difference."
About ShelterBox
Since its inception in 2000, ShelterBox (http://www.shelterboxusa.org) has provided shelter and dignity following over 100 disasters in more than 70 countries, bringing the organization to the forefront of international disaster relief. ShelterBox instantly responds to earthquake, volcano, flood, hurricane, cyclone, tsunami or conflict by delivering boxes of aid. In many cases ShelterBoxes have made the difference between life and death.
Each ShelterBox supplies an extended family of up to 10 people with a tent and lifesaving equipment to use while they are displaced or homeless. The contents are tailored depending on the nature and location of the disaster, with great care taken sourcing every item to ensure it is robust enough to be of lasting value. Highly trained ShelterBox Response Teams distribute boxes on the ground, working closely with local organizations, international aid agencies and Rotary clubs worldwide.
Individual tax-deductible donations to ShelterBox USA can be made at http://www.shelterboxusa.org or via text message by sending SHELTER to 20222 for a one-time $10 donation. For information on or to make a contribution by phone, please call 941-907-6036.
Contact:
Alan Monroe
P: 941.907.6036
###