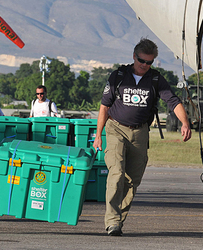 I feel my 'on the ground' experiences will bring another dimension to the board of directors.
Lakewood Ranch, FL (Vocus) June 2, 2010
ShelterBox USA is pleased to announce the election of Wayne Robinson of Roswell, Georgia to the board of directors. ShelterBox USA is an international relief agency which delivers shelter and life-saving aid within days of a disaster. Robinson was one of the first US based ShelterBox Response Team members to deploy to disaster zones and hand deliver the green boxes of aid and will now serve an integral role in the governance of the organization.
"Wayne brings so much to the table," said Veronica Brandon Miller, executive director of ShelterBox USA. "From his extensive training and fieldwork background to his experiences as a successful business man, the organization will certainly benefit by having him serve on the board of directors."
Robinson has owned Roswell Home & Office Furniture Outlet since he started the business in 1988. Today, he runs the store with his son, Casey Robinson, also a ShelterBox Response Team Member.
Robinson was one of three first responders to the earthquake in Haiti. He had been deployed to Haiti in the past to provide shelter after a hurricane left thousands homeless. Robinson felt that he could leverage the contacts he had made during that time to help.
"My phone rang 12 minutes after the quake and made the commitment to go to Haiti," said Robinson. "I was on the plane within 15 hours to deliver aid."
Each ShelterBox typically contains a ten-person tent, water purification equipment, a cook stove, mosquito netting and other essential supplies. To date, ShelterBox has delivered enough life-saving tents and supplies to up to 160,000 people in Haiti. Robinson was in Haiti for three weeks following the earthquake delivering aid until a second ShelterBox team came in to take over allowing Robinson to head home for much needed rest.
Drawn to the ShelterBox mission after seeing an article in The Rotarian, Rotary's Magazine, Robinson felt compelled to join the effort as a ShelterBox Response Team Member. Since then, Robinson has been on 8 deployments for ShelterBox in 7 countries. Robinson describes his experiences in the field as gratifying, rewarding and humbling.
"The honor to deliver aid to those in Haiti, days after the earthquake, is something I will remember the rest of my life," said Robinson. "I feel my 'on the ground' experiences will bring another dimension to the board of directors."
Robinson joins 11 others on the ShelterBox USA board of directors.
Individual tax-deductible donations to ShelterBox USA can be made at http://www.shelterboxusa.org or via text message by sending SHELTER to 20222 for a one-time $10 donation. For information on or to make a contribution by phone, please call 941-907-6036.
About ShelterBox
Since its inception in 2000, ShelterBox (http://www.shelterboxusa.org ) has provided shelter and dignity following over 100 disasters in more than 70 countries, bringing the organization to the forefront of international disaster relief. ShelterBox instantly responds to earthquake, volcano, flood, hurricane, cyclone, tsunami or conflict by delivering boxes of aid. In many cases ShelterBoxes have made the difference between life and death.
Each ShelterBox supplies an extended family of up to 10 people with a tent and lifesaving equipment to use while they are displaced or homeless. The contents are tailored depending on the nature and location of the disaster, with great care taken sourcing every item to ensure it is robust enough to be of lasting value. Highly trained ShelterBox Response Teams distribute boxes on the ground, working closely with local organizations, international aid agencies and Rotary clubs worldwide.
Contact:
Tiffany Stephenson
941.907.6036, ext. 102
###