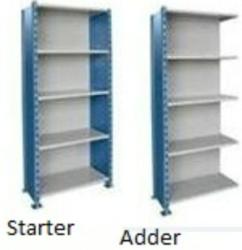 Shelving is now available in local markets nationwide
Boston, MA (PRWEB) September 06, 2012
Shelving is always a product line in great demand at A Plus Warehouse. The product team spends countless hours developing new items that make customers' operations more efficient. There are several new shelving lines that A Plus Warehouse is now highlighting.
Many customers store bulky unit items yet use traditional industrial shelving. One innovation is rack sized bins preconfigured on double deep wire shelving! Now customers can store similar bulky items in one location. This makes for a more organized warehouse, and organized warehouses have fewer errors than messy ones. Picking errors are no laughing matter, and pre-configured rack bin shelving units can help.
Of course Quantum Plastics is always busy creating new and exciting products, and not just plastic bins! A Plus Warehouse now sells shelving with quantum bins. A few items to consider are the giant clear bins with shelving and also the clear bins on wire shelving. A great reason to order pre-configured shelving is that customers are assured to get an optimal bin configuration.
Looking towards Hallowell , there are now industrial shelving units in stock that have capacities up to 1250# per shelf. These deluxe closed or open shelving units tease out as much capacity as possible through the use of an innovative H post. These shelving units are also in stock nationwide. Hallowell has another important feature – which is local inventory. Trucking is a per pound, per volume and per distance issue. The issue with shelving is that it costs relatively little per pound. For example, a 125 pound shelving unit may cost $250. This has a factor of $2 per pound Have you ever wondered why warehouse clubs wont ship 40 pound bags of pool salt? Because a 40 pound bag costs $7 – or 17 cents a pound. By locating inventory close to customers , there is less sticker shock with freight. Also note – in the case of an Apple Ipad , an 8 oz machine has a price of $400 or so – which is a $800 per pound more or less. This is why shipping directly from the other side of the world doesn't scare customers.
According to Ed Stairman, President of A Plus Warehouse , " Hallowell has worked the necessary calculus to see that the shelving hamburger factor suggests local inventory is economical." Hamburger factor is an A Plus term that describes what any commodity may cost per pound. Pad style computers have a MASSIVE hamburger factor while shelving has a much smaller one. Clearly the big brains at Hallowell has figured out a thing or two, and A Plus Warehouse 's customers benefit from their stocking decision.
A Plus Warehouse is ready to help with any shelving question or requirement.