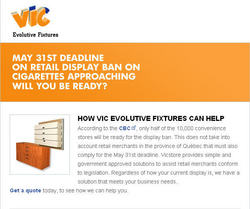 (PRWEB) May 29, 2008
Visit the Social Media Press Release Page:
http://www.vicstore.com/pressrelease/en/index.html
(PRWEB) May 29, 2008 -- Effective May 31st, 2008, the ban on retail display of tobacco products or packaging in public view, other than in cigar lounges, duty-free shops and specialized tobacco retailers, will come into force in Ontario and Quebec. Tobacco products retailers therefore will have the obligation to respond to these requirements in the very near future.
Vic Store Fixtures is pleased to be able to help these retailers by providing an optimal shelving solution that responds to governmental requirements, while contributing to the reduction of the visual presence of tobacco in our society.

Article 20.2 of the Tobacco Act (L.R.Q., chapter T-0.01)
The Solutions
Vic therefore proposes to the tobacco products retailers two different storage solutions in conformity with the restriction criteria established by the Quebec government**. These two options have been developed to ensure conformity and efficiency in order to meet the affected retailers' expectations.
First, Vic offers a wall storage solution, which consists of a shelf with an integrated door, thus allowing the compartment to remain closed between the transactions. The compartment is open only when the employee needs to remove a product and give it to the customer. It must be fixed to the wall with standard slotting posts, often already on the wall behind the service counter. This solution is durable and inexpensive for retailers because it is made of metal.
Secondly, Vic offers a storage solution which consists of a cabinet with drawers that fits under the existing service counter. Only the employee who is working behind the counter will be able to see the products it contains. This cabinet will be offered in wood creating a warm and attractive design.
Please note that Vic is currently working on the development of a service counter specifically designed for convenience stores which will integrate drawer cabinet for tobacco products. Vic will then be able to propose a more global offer to its customers. The service counter will be available on the market within the next few months.
** Tobacco products retailers should ensure that tobacco products are merchandised so that they comply with government regulations.
The Company
For more than 50 years now, Vic Store Fixtures conceives, designs and distributes shelving systems throughout Canada and Northern United States. The company has its manufacturing facilities in Victoriaville, Québec, with a workforce of more than 150 employees who are ready to deliver innovative products to Canadian and American retailers.
Vic's corporate mission is to develop innovative store fixture systems that responds to the retailer's constantly evolving needs in merchandising and efficiency.
###