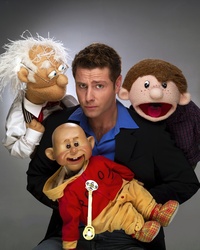 This is the first time comedy will be performed in Shenzhen city and we are glad to add some variety to the entertainment scene
Shenzhen, Guangdong (PRWEB) September 22, 2008
The Punchline Comedy tour is stopping in Shenzhen, China. Jokes will start on Tuesday October 14th for one night only. English speakers from all countries in need of some humor are invited to watch the live show.
The Stand-up Comedian Lineup includes three experienced and well recognized names from the Comedy circuit in England:

Paul Zerdin - Ventriloquist (England)
Mark Watson - Stand-up (England)
Phil Butler - Stand-up (England)
Advanced tickets will be on sale for 220RMB. Tickets include two drinks brought to guests by Stella Artois Lager and Summergate Fine Wines and Spirits. Purchase your advanced tickets before 10/10/08 to ensure your seat or if you are a last minute funny man, tickets might still be available at the door for 270RMB.
If you are interested in a laugh call +86-755-3396-6071 to reserve your tickets before another prankster gets them and the joke is on you.
Showtime Starts Sharply: 8:30 pm on Tuesday October 14th. The show lasts around 2 hours including intermissions.
Come for tapas at El Divino before the show or any of the Four Points by Sheraton Restaurants and receive 15% off your dinner bill with tickets. To get you in a silly mood Happy Hour drink prices are in effect before the show on Stella Artois Beer and Summergate Wines.
"You are bringing Mark Watson to SZ - do you know how good he is! That's amazing! I saw him at the Edinburgh festival" said Jonathan Sweeney-Lowe, Executive Manager, British Chamber of Commerce Guangdong.
"This is the first time comedy will be performed in Shenzhen city and we are glad to add some variety to the entertainment scene," said Brent Deverman, General Manager of http://www.ShenzhenParty.com
The show is supported and promoted by the following organizations:

Shenzhen Daily - South China's only English Newspaper
ShenzhenParty.com - the city's largest online English media
British Chamber of Commerce Guangdong
Shenzhen Nanshan Overseas-returned Chinese Association (SNOCA)
Tickets can be purchased at the following locations:

The Snake Pit Shekou
The Executive Centre Kerry Plaza Futian
El Divino in the Four Points by Sheraton Futian
Gypsy's Restaurant Shekou
More ticket locations will be announced on the web site.
The comedians are part of The Punchline Comedy Club tour that will stop by Shenzhen on their way from Hong Kong, Shanghai, & Qingdao. This tour through the direction of John Moorhead has been bringing quality comedians to Asia since 1994.
About El Divino:
El Divino Club is located in Four Points By Sheraton Hotel, just minutes away from the new border in Futian. Enjoy world class cocktails, a Spanish Tapas restaurant, a huge terrace overlooking Hong Kong, a luxurious business bar and the club hosting world famous Djs.
Address: 6th Floor Four Points By Sheraton Shenzhen Hotel, 5 Guihua Road, Futian Free Trade Zone.
深圳福田保税区桂花路 5 号深圳福朋喜来登酒店六楼
tel: 0755-8283 0329
About Shenzhen & Shekou Party:
The Web site has been providing essential living information to Shenzhen and Shekou English speakers for over 7 years. Countless users have found jobs, hired employees, rented apartments and dated their significant other through the popular classified section. From fashion shows to Oktoberfest, from Futian to Shekou, from Business Travelers to long stay residents, the site keeps you updated with detailed information on the fishing village turned into mega port city. According to Alexa.com rankings, the web site is now the second most popular in Guangdong, China just after the Canton Fair Import and Export Exhibition.
Contact:
Brent Deverman, General Manager
+86-755-3396-6071
###