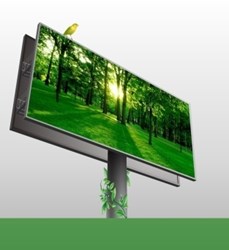 Shenzhen, Guangdong (PRWEB UK) 30 December 2013
Change the world one LED screen at a time – this is the new motto of Shenzhen Dicolor Optoelectronics. While saving energy might not be a top priority in the LED display manufacturing industry, Shenzhen Dicolor Optoelectronics finds that this industry needs to put more thought in the concept of environmentally friendly LED displays. China has always had a bad reputation when it comes to environmental issues, and it is mostly justified. This is due to several reasons – logging, fishing and hunting, to meet the needs of such a large population are certainly the most prominent ones. However, China is now the world leader in renewable green investment. The country is aware of its issues and has slowly started to develop in the right direction, the "green" direction. As a part of this important movement in China, Dicolor LED too, has increased its investment in the R&D of environmentally friendly LED displays. At the moment interested buyers can choose between the N-Series, a traditional LED screen and the I-Magic, which is more innovative in terms of weight and usability.
LED technology is known to be more eco-friendly than its alternatives, incandescent bulbs and CFLs (compact fluorescents), based on its long lifespan and highly efficient light output ratio of 80-85 percent. Shenzhen Dicolor Optoelectronics is aware of these attributes and puts special emphasis on the energy saving aspect when manufacturing its LED screens. Their products contain no mercury or lead and due to their lightweight LED displays, the transportation carbon footprint is lowered.
Additionally, Shenzhen Dicolor Optoelectronics is using less plastic and aluminum for the smaller sized cabinets of its U.V.I. product line, and thereby ensuring that customers have the option of purchasing environmentally conscious products. Many of their products have very efficient energy usage and therefore lower energy consumption.
According to General Manager Jinbu Ma, Shenzhen Dicolor Optoelectronics is very proud to be part of an industry which helps combat the energy crisis and will continue investing in eco-friendly and energy saving technology.