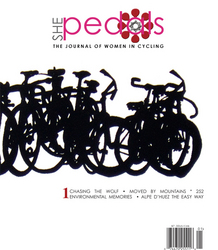 The goal is to weave a publication that gives women of all ages, abilities and cycling interests something to inspire them…
Pasadena, California (PRWEB) October 30, 2009
The new women's cycling magazine: shePedals: the Journal of Women in Cycling has launched its debut issue.
ShePedals is designed to be a magazine for all women who ride. "The goal is to weave a publication that gives women of all ages, abilities and cycling interests something to inspire them…" said the founder of shePedals publishing, Dena Eaton. It is a quarterly print publication with feature articles, interviews, photographic essays and more.
Featured articles in the debut issue include: Moved by Mountains, K. Kefauver; Environmental Memories in Northern California, J Reinhardt-Reiss; Alpe d' Huez…Downhill, A. Martin; as well as an interview of Masters' rider extraordinaire Patricia Baker by Meghan Delehanty, an U-23 column by Lydia Tanner and Katherine Fuller's chronicles of becoming a competitive cyclist in the Cat 5 Files.
Reader reviews are in:
"Thank you for a really wonderful women's cycling journal. It is unlike anything I have ever seen before. (that is really meant as a big compliment)."
"It's great!!! I love the art, the content-it was interesting to read and look at."
"I got mine yesterday and read it cover to cover...have NEVER done that with any other magazine. Love it!"
ShePedals is developing a website that will include online articles, reader blog, current newswires from around the world, an editable calendar as well as many other features to connect all women who ride! It will debut in November 2009.
To promote women in cycling, shePedals has also formed a USA Cycling Club. Anyone, even non-racers, are encouraged to join. This club will be supporting several women centered non-profits as well as holding riding clinics for all abilities of women in 2010 on both the road and the track. In development is a club website with training forums, calendar, riding and racing tips.
The next issue is mailing December 15th. It will be available by subscription. Canadian and International subscriptions are available.
To subscribe please go to shepedalsmagazine.com.
Review copies available.
shePedals Contact:
Dena Eaton, Editor shePedals Publishing
760 305 2400
###