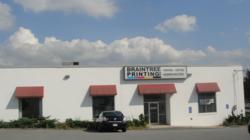 "Congratulations to Braintree Printing for taking steps to more than double its recycling efforts," said Norfolk County Sheriff Michael Bellotti
Braintree, MA (PRWEB) February 14, 2012
Braintree Printing, a full-service digital printing and offset printing company serving printers and print brokers throughout the Northeast, received kudos from Norfolk County Sheriff Michael Bellotti for the company's recycling efforts.
In a January 2012 letter to owner Jim Corliss, Sheriff Bellotti congratulated Braintree Printing and said the Braintree, MA printing company has "helped the environment and set an example for other small businesses to follow."
Speaking on behalf of the Commonwealth of Massachusetts, Sheriff Bellotti said the steps Braintree Printing has taken to reduce printing waste and increase recycling are to be commended. "These are the kind of proactive measures that make our communities such great places to live and work," he said.
In 2008, Braintree Printing partnered with EOMS Recycling of West Bridgewater. EOMS conducted an extensive waste audit and identified recyclables and recommended collection methods. After implementing the suggestions, Braintree Printing reduced its trash considerably, generating an average of 15 tons of recyclable material every month.
Braintree Printing's purchase of a 35-yard compactor unit with a hydraulic tipper made recycling simple and lucrative, eliminating employee back strain and decreasing EOMS collection costs. In 2011, EOMS rewarded Braintree Printing's increased recycling with a financial rebate.
"We all know recycling is good for the environment," said Bob Boucher of EOMS. "Now companies like Braintree Printing are discovering that recycling done right can be financially rewarding too."
Braintree Printing owner Corliss said his company promotes environmental sustainability within his plant and the printing industry. A certified printer in the Forest Stewardship Council's chain-of-command program, "Braintree Printing uses FSC certified paper to print materials and recycled cardboard boxes to package them," he said.
The company purchases eco-friendly equipment such as the HP Designjet L25500 which operates with water-based inks and no pollutants. An energy audit by Braintree Electric Light Department resulted in energy-efficient LED lighting throughout Braintree Printing's 17,000 square foot plant and shaved 3% of its annual electric bill.
About Braintree Printing
Braintree Printing provides offset printing and digital printing for printers and print brokers throughout the Northeast. Owned by Jim Corliss, Jerry Hogan and Jose Tafur, the 28-year-old company specializes in high-end, 4 and 5 color offset printing and digital printing, book printing, and various types of bindery and finishing. With $5.97 million in annual sales, Braintree Printing ranked 28th nationwide and was the highest ranking Massachusetts printer on Quick Printing Magazine's 2011 Top 100 List. Braintree Printing operates in a 17,000 square ft plant on Wood Road in Braintree, MA. Business hours are 8:30 am to 6:00 pm, Monday through Friday, with production areas working 24/7 to meet customer demand. For information, call 781-848-5300 or visit http://www.braintreeprinting.com.
###