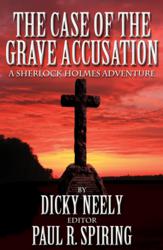 Conan Doyle accused of murder? This is a case for Sherlock Holmes!
(PRWEB) June 20, 2011
A new book tells the story of how, in 2000, Sir Arthur Conan Doyle (1859-1930), the creator of the iconic fictional detective Sherlock Holmes, was accused of stealing the storyline for The Hound of the Baskervilles (1901) from a friend called Bertram Fletcher Robinson (1870-1907), (CNN, Sep 2000). To make matters worse, Sir Arthur was also accused of adultery, blackmail and murder! Who could solve this case?
The new book published on 27 June 2011 is based upon the real-life defence of one of Britain's most beloved authors. The Case of the Grave Accusation is a humorous adventure in which Holmes and Watson return to modern-day Dartmoor to clear the name of their creator and to preserve their continued existence.
The pastiche is the work of the Texas-born writer and cartoonist, Dicky Neely, and it was edited by the eminent British Holmes historian, Paul R. Spiring. The former man recalls:
"When I heard that a British author had released a book claiming that Holmes author, Sir Arthur Conan Doyle, had plagiarised the story of The Hound of the Baskervilles from his friend and associate Bertram Fletcher Robinson, committed adultery with his wife and then murdered him, I thought to myself, this is a case for Sherlock Holmes!"
Dick Neely's story was first published in a now defunct Texan newspaper during 2002 but it has since been significantly rewritten. It was rediscovered by Spiring at around the same time as Conan Doyle's 150th birthday celebration in May 2009:
"I read Dicky's story and got in touch with my publisher. You've got to read this Steve. It's the perfect fun story to go alongside the cold hard facts that we used to clear Conan Doyle's name."
Steve Emecz, Managing Director of MX Publishing Limited, a specialist in the publication of Holmes pastiches explains:
"The original case against Conan Doyle made headlines across the world. Here was the creator of perhaps the most widely recognised fictional character of all time – and the father of modern crime fiction – being accused of plagiarism, adultery and murder. An application was made to exhume the body of Fletcher Robinson in order to test the cause of his death – no doubt this was traumatic for the family concerned. When we heard that Dicky and Paul were planning to collaborate on a related story, we moved fast to grab the project!"
It is perhaps an unlikely team – a windsurfing writer and cartoonist from Texas and an award-nominated Holmes historian living in Germany – both uniting to produce a Devon-based book that will be an absolute delight for Holmes fans.
The release of the book was timed to coincide with a pending judicial review of insensitive plans to redevelop Sir Arthur's former home called Undershaw at Hindhead in Surrey. He designed the house and lived there between 1897 and 1907. During that period he wrote many of his most famous works including The Hound of the Baskervilles, and entertained many writers including Bram Stoker, E.W. Hornung, J.M. Barrie, Virginia Woolfe and Bertram Fletcher Robinson. Lynn Gale of The Undershaw Preservation Trust comments:
"I was staggered to see a building in such a derelict state when it could be such a valuable local asset for tourism and the regeneration of the local area (Hindhead, Surrey, England) especially now the mile and a quarter long road tunnel (longest inland tunnel in the UK) will remove over 80% of the traffic from the vicinity and this house could play a valuable part in the regeneration".
The Case of the Grave Accusation: A Sherlock Holmes Adventure will be published worldwide on 27 June 2011 in several formats including paperback through major booksellers like Amazon USA, Amazon Kindle, Kobo Books and iBooks (for iPad and iPhone).
Review copies available on request.
Further information:
The defeat of the real-life accusation in court in 2008.
Bertram Fletcher Robinson biography.
###