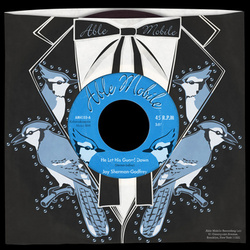 "With driving dual acoustic guitars, Byrdsy chiming 12-string, and a lilting melody, He Let His Guard Down is prime mid-tempo country-folk pop. Small Victories' full-bodied harmonies, rippling organ, and stately tempo evoke the epic ballads of The Band."
Astoria, NY (PRWEB) July 6, 2010
"He Let His Guard Down" b/w "Small Victories" is the third in a series of six "virtual vinyl" singles scheduled for release in 2010 by Jay Sherman-Godfrey and available for download exclusively at jayshermangodfrey.com.
To ring in summer, Sherman-Godfrey veers away from the pop-rock of his first two singles and toward his country-rock roots. "Both tunes are of a piece with the more rootsy music I was making in the late-90s and early 2000s," he says. "The songs are very much inspired by the material Laura Cantrell was writing and covering for the two records we made together, and it was natural fit for the players, who all have alt-country bona fides." As the source of inspiration, it's fitting that Cantrell lends her voice to the A-side. "I heard her on the tune from the start," Sherman-Godfrey adds. "It was a treat singing with her again. Her harmony part really makes the track special." The song also features Chris Erikson's melodic 12-string counterpoint and the drumming of Phoebe Summersquash, who also played on Sherman-Godfrey's debut EP, Twoscore.
For Small Victories, Sherman-Godfrey assembled an atypically large ensemble. "The touchstones for the sound I was after were those epic ballads by The Band," says Sherman-Godfrey. "To get closer to that vibe, we filled the studio to the brim with players and cut most of the track live." Featured on the track are in-demand pedal steel player Jon Graboff, also a veteran of Cantrell's band, and Loser's Lounge impresario Joe McGinty on organ. Rounding out the cast are pianist Bob Byrne and vocalist Cheri Leone, who play with Sherman-Godfrey in Mark Bacino's band, Ted Barron on guitar, and core band members Nancy Polstein and Jeremy Chatzky on drums and bass.
Fully embracing the virtual vinyl concept, each single in the series features a proper "A" and "B" side and lovingly detailed sleeve and label art work by designer Mark Paul. The songs were produced, recorded, and mixed by Sherman-Godfrey at Chatzkill Studio, The Buddy Project, and Able Mobile HQ and mastered by Paul Gold/Salt Mastering.
Jay Sherman-Godfrey has enjoyed a long and varied musical career in and around New York City. He produced Laura Cantrell's acclaimed first two CDs, Not The Trembling Kind and When the Roses Bloom Again, and has recorded and performed with They Might Be Giants, Tandy, Amy Rigby, Michael Shelley, Eric "Roscoe" Ambel, and Mojo Nixon, among many others. In the early 1980s, he co-founded the seminal NYC country-rock band World Famous Blue Jays with singer and songwriting partner Jeremy Tepper. He operates Able Mobile Recording Lab in a space shared with Joe McGinty's Carousel Vintage Keyboard Studio in Greenpoint, Brooklyn.
###