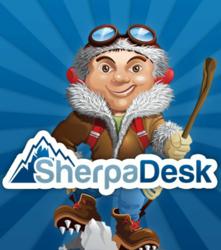 We provide a support system which simplifies the mess of tracking different time and billing structures across your customer base
Atlanta, GA (PRWEB) November 03, 2011
bigWebApps, an application development company, today announced registration for a private beta of its latest web-based customer support and time tracking solution, SherpaDesk, a pay-for-what-you-use helpdesk solution. Its 'First Tech is Free' and utility priced model is aimed to provide organizations with a cost effective way to provide personalized customer support. The key feature of the helpdesk solution enables flexible time and billing plans for each customer an organization is supporting. People interested in testing SherpaDesk can register to be notified when private beta access becomes available.
"We provide a support system which simplifies the mess of tracking different time and billing structures across your customer base", said Patrick Clements, CEO of bigWebApps. "Customized billing plans can be created for any type of unique invoice and billing setups, allowing SherpaDesk to handle the computation of time logs." Integration into QuickBooks and FreshBooks is currently available and there are future plans to integrate into other complimentary billing solutions.
Email is still the primary form of communication when companies engage with their customers. SherpaDesk's email parser allows ticket creation, threaded discussion, ticket classification, and closure all conducted over email. Providing quality customer support is made possible for organizations without the weight of always having to access an application.
"We are going to provide the ability for every organization whether it is one or two-man shops or organizations that manage thousands of requests per month, to engage with their customers and provide personalized support", said Clements. "We are creating a fully scalable application to allow managed service providers and support staffs to cost effectively deliver awesome customer service."
Personalization of support has become a vital part of business communication. With today's cloud platforms and wide availability of web solutions one or two-man operations are able to effectively compete and operate at the levels a much larger business. SherpaDesk will offer a helpdesk and client management application with custom integrated time and billing, project management and asset tracking. Data delivered decisions will be made possible by using a list of standard reports or creating specific reports with the Custom Report designer.
Starting today SherpaDesk is opening up registration at http://www.sherpadesk.com to organizations who would like to be notified when private beta accounts become available.
About bigWebApps
bigWebApps, founded in 2001, is an Atlanta based application development company who specializes in delivering cloud based work flow management solutions. Its application suite consists of bigWebApps WareHouse, an internal parts management solution, FleetSystem, a work order tracking system for preventive maintenance and reported repairs of fleet inventory, and its marquis solution, bigWebApps HelpDesk, a small to medium sized enterprise helpdesk application.
bigWebApps is a global service company providing solutions to companies ranging from small and medium businesses to government organizations located in nine countries around the world and across 43 states.
For more information, visit http://www.bigwebapps.com | http://www.sherpadesk.com
###