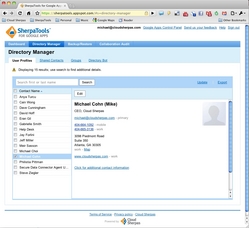 SherpaTools for Google Apps was developed in response to our customers' demand for additional IT management tools and end-user workflow capabilities. In simple terms, SherpaTools lets you 'Do More with Google Apps.'
Atlanta, GA (PRWEB) March 4, 2010
Cloud Sherpas today announced the beta launch of SherpaTools for Google Apps (http://www.sherpatools.com), a new application that extends the IT management capabilities within Google Apps. Delivered as a service, SherpaTools is available to the Google Apps community for free while the product remains in beta. SherpaTools is Cloud Sherpas' flagship product. The company is a leading reseller of Google Apps to SMBs and large enterprises.
Google Apps brings simple, powerful communication and collaboration tools to organizations, but sophisticated IT departments need more management functionality than Google offers "out of the box." SherpaTools addresses this need by providing Google Apps administrators with more flexibility in the way they manage end-user profiles and settings, shared contacts and groups.
Using SherpaTools is easy. Google Apps administrators can log in at http://sherpatools.appspot.com/. Since SherpaTools relies on Google Apps as the OpenID identity provider, users don't need to create an account or remember a new password -- they simply log in with their existing Google Apps credentials.
The Directory Manager module provides administrators with a familiar interface for creating, retrieving, updating and deleting rich profile information for end users, shared contacts and groups. It also provides the ability to import and export contact information in bulk. Without SherpaTools admins would have to write custom code to manipulate these fields or sync Google Apps with a back-end LDAP server.
Next week, Cloud Sherpas will be adding a new feature to SherpaTools that will allow administrators to specify a number of end-user settings. For example, a company that has a number of unique domain names associated with its business would previously have had to instruct its employees on how to set up their Gmail accounts to send mail from those individual domains. Now, with SherpaTools, admins can push a variety of end-user specified settings to admin-defined portions of their user-base. Settings include "Send Mail As," "Language," and "Time zone." More end-user settings will be added over time.
SherpaTools also offers Instant Messaging-based capabilities to end users. Line-of-business staff can use SherpaTools to retrieve corporate directory information via any Google Talk™ client, including mobile devices. This is important since most end users only have access to their personal address book from a mobile device, not the entire corporate directory. Within SherpaTools' Directory Bot module, end users can access the entire corporate directory, including end-user profiles and shared contacts, all via instant message.
"Cloud Sherpas has migrated tens of thousands of users from dozens of enterprises and institutions to Google Apps," says Michael Cohn, founder and CEO at Cloud Sherpas. "SherpaTools for Google Apps was developed in response to our customers' demand for additional IT management tools and end-user workflow capabilities. In simple terms, SherpaTools lets you 'Do More with Google Apps.'"
SherpaTools is the only cloud-based application to extend Google Apps' IT management capabilities. Other SherpaTools modules in development include compliance tools, and user provisioning and de-provisioning workflow templates. The SherpaTools application works with Premier, Education and Partner editions of Google Apps.
About Cloud Sherpas
Cloud Sherpas (http://www.cloudsherpas.com) is a cloud computing systems integrator and application developer. As a Google Apps Authorized Reseller and leading Google Enterprise partner, we have migrated tens of thousands of users from legacy, on-premise messaging systems to Google Apps and Google App Engine, helping organizations adopt cloud computing to innovate and dramatically reduce their IT expenses. SherpaTools for Google Apps (http://www.sherpatools.com) is a free app from Cloud Sherpas that enhances the functionality and ease-of-use of Google Apps for both administrators and end-users.
# # #