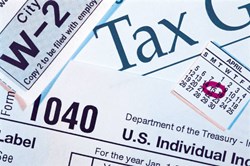 (PRWEB) April 20, 2013
The IRS made news reports in a positive way when Acting Commissioner Steven T. Miller declared that the IRS was giving Boston residents a three-month, penalty-free extension on filing their taxes. This is unusual, not only because Boston was not a natural disaster site, but also because time extensions allowed by the IRS do not always include any lifting of penalties or interest on amounts owed, as pointed out by the Washington Post on April 17, 2013. Platinum Tax Defenders offers tips on tax deductions, and suggests that back tax help may be best found in a tax resolution firm.
However, pointed out the Business Insider (April 17, 2013), even this generous offer to Boston residents doesn't come completely charge-free. Those who were "impacted by Monday's brutal terrorist attack" certainly have until July 15th to send in their tax returns, and without late fees or penalties normally incurred. However, the IRS still is not lifting the daily compounded 3% interest rate on the balance due. Suffolk County residents in Massachusetts are also included in the penalty-free zone, along with first responders and family members of victims.
The last time the IRS made a generous announcement of tax extensions was for the victims of Hurricane Sandy, who were allowed until November 7 to file and pay amounts due on both business and personal taxes. (Normally, natural disaster victims are given until October 31st to file.) A second tax relief measure was enacted in February 2013, when the IRS pushed forward the extension for Sandy victims in certain counties of New Jersey and New York state, until April 1st. Especially significant was that the IRS automatically allowed those qualified for this special extension to have late-filing penalties, late-payment fees, and interest payments waived.
Business Insider also stated that the IRS will be sending out notices of eligibility. Platinum Tax Defenders encourages taxpayers outside of Boston and Suffolk limits, who fit the eligibility requirements of the Boston extension, to call 1-866-562-5227 to claim the relief, without waiting for a notice. This number can also be used for those who erroneously receive a penalty notice, says Accounting Today, and if more time is needed for personal taxes, Form 4868 can allow for the normal extension time up to October 15th.
What can be overlooked, says Platinum Tax Defenders, is that extensions (by Form 4868) only apply to personal taxes. Those who are self-employed and filing a Schedule C, or sole proprietors, only have until October 3rd to file even after filing Form 4868. Corporations and S Corporations must file Form 7004 by March 15th to obtain a six-month extension. Partnerships and LLC's can still wait until April to file a business and personal tax extension, but partnerships are only allowed a five-month extension, until September 15th. Single-member LLC's can use their Social Security number on Form 4868, for business and personal taxes, but multiple-member LLC's and partnerships need to file separate extension forms. Since even filing for an extension can be confusing, with multiple deadlines, it may be a good idea to obtain help from a professional tax resolution office, especially if there are back taxes involved.
Platinum Tax Defenders is the most trusted tax resolution services that has been helping tax payers to solve their tax issues. Tax payers with back taxes or any other tax problems can contact Platinum Tax Defenders to get a free consultation at 1-877-668-1807 from tax relief professionals directly. They will be honest and upfront regarding your problems and will help you find the best possible solution to resolve your tax problems.
For more information from Platinum Tax Defenders on stopping property seizure and getting help with back taxes, call 1-877-668-1807 or send an email to info@tax-resolution.me.