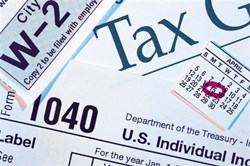 Los Angeles, California (PRWEB) April 30, 2013
Owing taxes at the end of tax season, or owing estimated taxes, are two fears that can cripple Americans from retaining enough earned money during the year. According to Bill Bischoff of Smart Money ("Do You Owe Estimated Taxes?), these fears are not applicable to those who did not owe in the prior year, or those who estimate current year withholdings to be under $1,000. However, with new tax rules constantly implemented, many Americans may fear that they will owe taxes because of lack of information or planning. Platinum Tax Defenders encourages taxpayers to plan for next year's tax season early, suggesting that it may help to contact a tax resolution firm for guidance on current and prior tax rules – especially for those who already owe on prior year returns.
First, those who should fear owed taxes, says Bischoff, include those who have profited from stock market sales without sending in extra estimated taxes, new business owners, and those with multiple streams of income. This late category can be particularly difficult, because contractors don't always receive 1099's or K1's in a timely manner, without specifically having to request it from the company who dispenses the forms.
Second, it may be an idea to revise withholdings on a long-standing part-time or full-time job if you add on a second job or new contract for which no estimations were made in the prior year. Extra interaction with the HR department while filing a new W4 form can be a hassle, but not more so than having to owe when there was nothing owed in prior years. Also, it can keep the IRS from requiring estimated taxes to be made in every successive year – once a taxpayer begins making quarterly payments for estimated taxes, the IRS tends to assume that this will always be the case.
Third, the "safe harbor" rule outlined in Smart Money really does help alleviate fears. Even for those with $150,000 AGI, it is possible to send in just the same amount as in the prior year, or the "tax liability number" on line 61 of a Form 1040 for personal taxes. Those with AGI's greater than $150,000 should add an extra 10% for safety. However, since no one really knows the exact amount down to the dollar of what is owed, a 90% guesstimate can be quite safe enough for any tax bracket.
Fourth, back taxes are a major source of fear, whether the amount owed is known or not. It may be enough just that the possibility of owing is there, which may keep taxpayers from filing at all. Procrastination increases the harm, says Platinum Tax Defenders, and it may be necessary to ask for tax relief so that the combination of interest, penalties, and owed balance doesn't threaten to drown the taxpayer in debt. If it can be proven that the amount owed is far more than the taxpayer can pay at the time, deals can be made.
Fifth, knowledge is power. Taxpayers often feel that tax laws change so drastically that it would be impossible to keep up with current rules. That's another reason to ask for help from tax relief services, says Platinum Tax Defenders, because professionals will know what changes have come through the American Taxpayer Relief Act (for example), and how they ought to be applied in individual situations. For example, there's no reason to fear changes to the Alternative Minimum Tax, whose percentages have been made permanent. (See the March 22, 2013 article on Life Health Pro, titled "The New 2013 Taxes: The Good, The Bad, And the Ugly".)
Platinum Tax Defenders helps taxpayers decide how they would like to deal with the IRS, especially when it becomes necessary with a large back tax bill to make a payment plan. Free consultations are available with qualified professionals, ranging from 25 to 45 minutes. Included on the team are a CPA, a tax attorney, and a former IRS agent, who will make sure that every effort is expended for the taxpayer to receive fair direction.
For more information on Platinum Tax Defenders, call 1-877-668-1807 or send an email to info(at)tax-resolution.me.