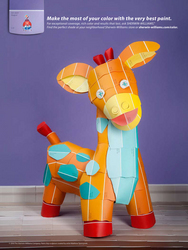 We're excited to have created a campaign that's brand-focused storytelling through art.
Durham (Vocus) May 13, 2010
Sherwin-Williams Paint Stores has launched Color Chips, a fully integrated marketing campaign that demonstrates Sherwin-Williams Paint Stores as the paint expert that helps people get the most out of their color with the best paint. Created by agency-of-record McKinney, the campaign, consisting of TV, print, online and rich media, showcases Sherwin-Williams' wheel of 1,500+ paint colors available at over 3,300 Sherwin-Williams' neighborhood paint stores nationwide.
Key Facts:

Three 30-second television spots take viewers into harmonious landscapes and cityscapes bursting with color and created from Sherwin-Williams color chips. Directed and produced by Buck NY, the spots are full of unexpected animation moments, featuring a range of wonderfully designed 3-D characters and environments that showcase Sherwin-Williams' extensive color palette. The spots will air nationally on cable channels, including HGTV, Discovery, DIY, E!, ESPN, Food Network, GAC, Lifetime, Style, TNT Sports, USA and Weather.
Four print ads feature original color-chip sculptures created by Matthew Sporzynski, best known for his paper artistry in Real Simple magazine. Sporzynski's sculptures, including a vase of flowers, stuffed animal, birdhouse and ice cream sundae, marry craftsmanship with the fun of selecting just the right paint and color. The ads will appear in issues of Architectural Digest, Better Homes & Gardens, Real Simple, Good Housekeeping, House Beautiful and This Old House and others .
Online executions include multiple display banner ads that invite consumers to engage with Sherwin-Williams color tools online, ranging from the ColorSnap® iPhone application to the brand's Color Visualizer, which allows people to upload their own photos to help envision what their completed painting project may look like.
All executions utilize the tag "Make the most of your color with the very best paint" that highlights the brand's forte in exceptional product quality
With over 1,500 color chips at Sporzynski's disposal, he was most attracted to Sherwin-Williams' family of greens. "I'm always big into the greens," he mused. "We used Gecko, House Plant and Pickle. I love the names of Sherwin-Williams paints. They're so evocative."
Supporting Quotes:
Ellen Moreau, Vice-President Marketing Communications:
"Sherwin-Williams is all about helping people turn their color inspirations into reality. With over 1,500 colors to choose from, we know making the right color choice is as important as choosing the right paint. Our new Color Chips campaign symbolizes just how passionate we are about helping people create something beautiful with amazing colors and the highest quality paint."
Jonathan Cude, chief creative officer, McKinney:
"We're excited to have created a campaign that's brand-focused storytelling through art. We were able to take what Sherwin-Williams is known for – expertise, advice and the world's best paint – and leverage it against an emotionally resonant story about color, using the single most important element in most painting decisions: the color chip. Buck's attention to detail throughout the spots, coupled with Matthew's passion for color and design, makes this some of McKinney's best work to date."
Supporting Resources:
Web: http://www.sherwin-williams.com/color
Web: http://twitter.com/_AskSW_
Web: http://www.facebook.com/SherwinWilliamsforYourHome
Web: http://www.youtube.com/watch?v=0nBbNo92grs
About Sherwin-Williams Paint Stores:
Sherwin-Williams Paints Stores is the nation's largest specialty retailer of paint, stains, coatings, wall coverings and sundry items. With more than 3,300 neighborhood stores in North America, the company is dedicated to supporting the do-it-yourself consumer with exceptional products; resources to make confident color selections; and expert, personalized service that's focused on the do-it-yourselfer's unique project needs. Sherwin-Williams brand-name products can only be found at Sherwin-Williams stores. You'll be amazed what happens when you ask. Visit http://www.sherwin-williams.com.
About McKinney:
McKinney is an independent advertising agency whose mission is to make extraordinary things happen by reinventing the conversation between people and brands. McKinney delivers through game-changing ideas, through leadership in the convergence of offline and online (88% of frontline staff are actively engaged in the digital space, which accounts for 35% of the agency's business) and through the relevant application of new technologies.
Founded in 1969, the Durham, NC-based agency's clients include Coldwell Banker, Abbott Nutrition's EAS, Gold's Gym, Nationwide Insurance, Newell Rubbermaid's Aprica, Nike, Partnership for a Drug-Free America, Qwest Communications, Sherwin-Williams, Travelocity, and Brown-Forman Corporation brands Bonterra, Chambord, Sonoma-Cutrer, Southern Comfort and Tuaca. For more information, visit http://mckinney.com or McKinney's blog at http://fivewords.mckinney.com.
Media Contact:
Janet Northen
919.313.4062
twitter.com/jnorthen
###