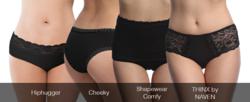 Created to be the smartest underwear for "every day of the month," this idea crosses over into the developing world with a "buy one-fund seven" model through a partnership with AFRIpads.
New York, NY (PRWEB) April 26, 2013
Along with Psy (currently at 2.5 billion Youtube channel hits and counting), filmmaker Morgan Spurlock of documentaries such as Super Size Me, and Twyla Tharp, legendary dance choreographer who will be presented with a Lifetime Achievement Award, twin co-founders Miki and Radha Agrawal will be accepting the TriBeCa Disruptive Innovation Award Friday, April 26th, for their social design innovation of THINX, a high-tech line of underwear with a social mission they created with their co-founding partner Antonia Dunbar. Collaborators on this project include another set of identical twins, fashion designers Alexis and Kym McClay who are recipients of this award for their design contribution to THINX and their achievements with their women's clothing brand NAVEN.
Craig Hatkoff, the Tribeca Disruptive Innovation Awards Chief Curator says, "This year's event will showcase people from diverse fields who have all disrupted their industries in unique ways. The collaboration between this set of entrepreneurial twins is definitely one of the highlights this year."
One of the reasons this may be so is that THINX is underwear unlike anything that is currently in the marketplace, and the co-founders are determined to start the conversation on a topic that most people never talk about: common mishaps during one's period.
After one too many embarrassing moments personally experienced or heard about amongst friends during "that time of the month," the Agrawal sisters and their friend Antonia created a solution to this common problem.
New to market as of February 1st, THINX is a first-of-its-kind, leak and stain-resistant underwear that includes anti-microbial and moisture-wicking technology support, and all within quite a beautiful package. The first line includes 5 styles from thongs and hip-huggers, all the way up to a pair that has shapewear-like support and heating inserts. To see the first styles currently in the second successful crowd-funding campaign for the team thru May 1st (Kickstarter brought in 130% funding for their goal previously), see http://www.shethinx.com.
To add to the disruptive nature of this project, the THINX co-founders were also motivated to help women and girls around the world.
"Currently, girls in the developing world are missing up to a week of school every month because they don't have the right resources during their monthly cycle," says Miki Agrawal, THINX co-founder and CMO. "They are using things like newspaper, leaves or plastic bags, and because of this and various other challenges, they end up falling behind and dropping out of school entirely, most often leading to early pregnancy and having no way of raising above the poverty level."
Enter AFRIpads (http://www.afripads.com), a company based in Kampala, Uganda that employs local workers to create washable, reusable pads for women and girls in their communities. THINX joined with them to create a socially sustainable business model where every pair of THINX underwear sold funds the production of 7 washable, reusable pads that help to keep a woman employed and a girl in school.
To help further this mission, THINX by NAVEN is a design collaboration like none other, where the NAVEN Twins incorporated their high-end, renowned design aesthetics into this new underwear concept created by THINX.
"Part of our focus at THINX was to provide styles that would appeal to women at every level, whether she was in college with a limited budget, or a more mature professional who has a preference for elegant underwear made of superior materials," says Antonia Dunbar, THINX co-founder and COO.
Echoing a similar viewpoint, Alexis McClay, NAVEN co-founder and head of business strategy, says, "When Miki and Radha approached us to collaborate on one of the designs, we knew this would help to widen the reach of THINX and its mission. We were excited to collaborate for women around the world and couldn't be happier with the result. Girls supporting girls!"
About THINX
THINX is a high-performance, yet beautiful underwear that's leak and stain resistant, moisture-wicking, anti-microbial and easily washable. Created to be the smartest underwear for "every day of the month," this idea crosses over into the developing world with a "buy one-fund seven" model through a partnership with AFRIpads, a Uganda-based organization that employs local women to create washable, re-usable cloth pads for women and girls so that they can continue school or work on pace with male peers. For every pair of underwear sold, 7 cloth pads will be produced for women or girl in need.
About the TriBeCa Disruptive Innovation Awards:
The Tribeca Film Festival (TFF) is recognizing the innovative honorees of 2013 at NYU Stern School of Business April 26, 11 am - 1 PM, Paulson Auditorium, NYU Stern School of Business, Tisch Hall, 40 West Fourth Street (at Greene Street).