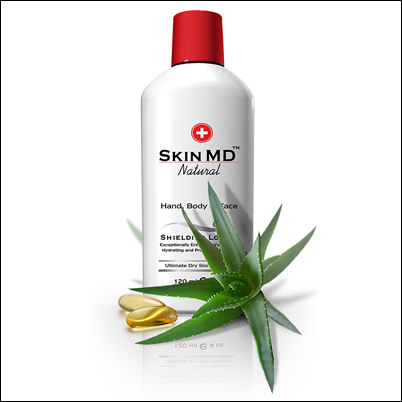 The ingredient list has a lot of natural antimicrobial effects
BEVERLY HILLS, CA (PRWEB) August 29, 2006
Anyone who suffers severe dry skin or any number of frustrating skin conditions, like eczema and psoriasis, knows there are a number of lotions and creams on the market, but often they only mask the symptoms and don't really heal the underlying skin condition. Many are thick and greasy and are just cosmetically inelegant. A recent study as well as research into the ingredient list may reveal Skin MD Natural as the ideal dry skin treatment and anti-aging therapy.
"The ingredient list has a lot of natural antimicrobial effects," says Dr. Brian Zogg, a dermatologist with a successful practice in Minnesota. "Does that translate to an antimicrobial product? What I can say for certain is that I definitely see my patients heal more quickly with fewer office visits when using a shielding lotion, like Skin MD Natural."
Skin MD Natural's light, sheer formula incorporates a number of natural herbs, vitamins and extracts as well as a new super-humectant, Symdiol 68, also with its own antimicrobial and anti aging properties, that all work in tandem to form a barrier that protects the skin's surface from external irritants, and attracts and retains moisture in the deeper layers of skin, allowing the skin to heal faster, and look younger.
The recent moisture study, a trans-epidermal water loss (TEWL) study by Cantor Research Laboratories in Valley Cottage, N.Y., found that shielding lotion increased in its ability over time to attract and retain moisture in the deeper layers of skin, when other products actually decreased in functionality. The study compared the shielding lotion against untreated skin and petroleum jelly (petrolatum).
"Many patients may be interested in the anti-aging properties, and that's fine, but my job is to ensure they have healthy skin and if a shielding lotion can help the skin to heal itself and provide the needed moisture that healthy skin needs, then I'm happy," says Dr. Zogg. "Whatever the combination of ingredients may be resulting in the increased moisture readings over time, the end result is the same as far as I'm concerned – healthy skin."
Contact Data:
Len Simpson
1-323-882-8125
90210
###