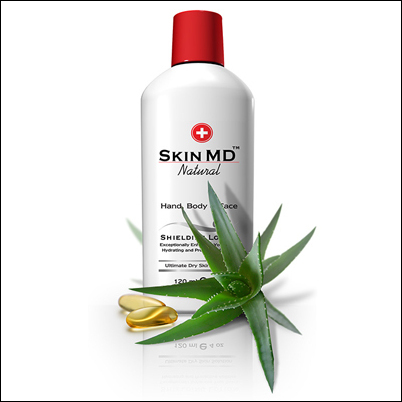 A shielding lotion is a new kind of lotion
Beverly Hills, CA (PRWEB) January 30, 2007
According to a study published in American Family Physician, work-related skin disease accounts for approximately 50 percent of all occupational illnesses and is responsible for 25 percent of all lost workdays in the U.S. The myriad of industries and occupations affected is remarkable: everyone from food handlers and bartenders, computer technicians, medical and dental workers, jewelry, metal and ceramic workers, almost anyone who works in construction or outdoors, medical and dental workers to hairdressers – to name but a few. Tens of billions of dollars are lost in production downtime and tens of billions more are spent on skin disease healthcare. Despite these expenditures and the myriad of both over the counter and prescription drugs available to treat these conditions, the incidence of skin disease continues to escalate. Clearly, a safe, effective skin care treatment is needed.
Skin diseases come in many forms: allergic contact dermatitis, atopic dermatitis (eczema), irritant contact dermatitis, neurodermatitis, perioral dermatitis, seborrheic dermatitis and stasis dermatitis. They are characterized by dry skin that usually includes either cracking, swelling, itching, redness, scaling, blisters or patches that resemble burns. In the workplace, these diseases are often so debilitating that people are forced to change their occupation.
In fact, occupational skin disease is not only a problem in the U.S. – workers around the world are suffering despite the growing number of related laws and governing bodies involved. In the U.S., there are now at least 14 federal regulations and three governing agencies – the Environmental Protection Agency (EPA), the Food and Drug Administration (FDA), and the Occupational Safety and Health Administration (OSHA). Germany has also recently invoked stringent regulations, and the problem in the UK has reached such proportions that the Local Government Association has launched a very localized dual-pronged education and law enforcement campaign in an effort to reduce skin disease in UK hairdressers – 50 percent of whom suffer from skin disease.
Shielding lotion, a new breakthrough technology in skin care now recommended by hundreds of dermatologists for dry skin, eczema and dermatitis, may be the skin care treatment that will give workers relief and enable government authorities to reach their goals.
According to Dr. Lisa Benest, a board certified dermatologist practicing in Burbank, California, shielding lotions may be the skin care treatment that solves the problem. "When we are exposed to harsh conditions in the environment it can have a very negative effect on our skin. The reason shielding lotions are so effective is that they replace the protective barrier and allow the skin to heal from within. A shielding lotion bonds with the outer layer of the skin and protects it from outside irritants and chemicals, so it will prevent skin conditions from developing or it will help an existing condition to heal."
Dr. Peter Helton, cosmetic dermatologist and medical director of the Helton Skin and Laser Institute in Newport Beach, California, agrees. "A shielding lotion is a new kind of lotion," says Dr. Helton. "It's a new technology that blends moisturizers with a light silicone material that is like a liquid plastic film that bonds with the surface of your skin. It is like wearing a band-aid or a glove that helps to heal the skin. It keeps the moisture in and keeps the irritants out."
Using shielding lotion, Dr. Helton has been very successful in reducing his patients' need for steroids and other chemical skin care treatment drugs and, in some cases, has been able to eliminate them altogether.
Although not life threatening, skin disease is costly, debilitating and disruptive. Shielding lotion may be the breakthrough skin care treatment needed to resolve the resultant problems for both workers and industry.
###