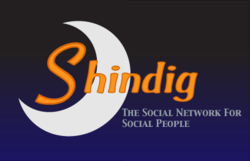 Shindig helps you plan and organize your social life in coordination with your friends. Keep track of what your friends are up to while making more informed decisions about how to spend your valuable free time
New York, NY (PRWEB) January 07, 2013
Shindig, a free social planning app, which runs on the iPhone iOS platform, allows users to see the top venues where their friends plan on going while sharing their plans and social calendars in real-time.
"Shindig helps you plan and organize your social life in coordination with your friends. Keep track of what your friends are up to while making more informed decisions about how to spend your valuable free time," says Hailey Friedman, Emory University Alum & Teach For America Corps Member, who co-founded the Shindig app with James Rubinowitz, senior at Emory University, and Julian Tigler, junior at Duke University.
The Shindig mobile app was created to make people's social lives more transparent for their friends. It was purposefully designed to optimize weekend fun by bringing people together.
Shindig was recently announced as one of 32 Semi-Finalists in Student Startup Madness, a national tournament in which the finalists compete and pitch their ideas at South by Southwest festival in March.
Described as an easier way to plan your social life, Shindig allows users a way to find out what their friends are doing at night, without texting or calling them to ask.
There has always been a big, wide world full of social opportunities, says the app's co-founder who resides in New York City, yet there was no guidance. This shortcoming left her wanting to know where her friends and acquaintances were going out. "We are building this app because it's something we wish we had," says Ms. Friedman. With Shindig, people can decide where they want to go and when, based on the plans posted by friends.
The app is targeted to 18-35-year-old Smartphone users. The Shindig mobile app keeps track of people's social life by instantly sharing plans with friends.
The company hopes to change the social media landscape.
For further information about the Shindig social media app, please visit the following websites: http://www.shindigmobile.com and http://www.facebook.com/ShindigMobile
# # #