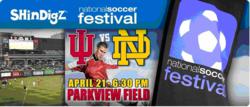 South Whitley, Indiana (PRWEB) March 21, 2012
As it has been doing for over 12 years, the Shindigz National Soccer Festival is bringing nationally top-ranked collegiate soccer to Northeast Indiana in a festival "Fun for All" atmosphere. The third Kickin' It At the Diamond will again pit Notre Dame University and Indiana University in a unique venue, Parkview Field, home of the Fort Wayne TinCaps. In 2010, over 4,200 people came to downtown Fort Wayne to witness a thrilling shootout victory by Notre Dame and in 2011 fans turned out again with Indiana winning. 2012 brings the rubber game of this dynamic matchup.
An exciting night will be had by all as playing soccer inside the baseball stadium offers extraordinary viewing angles for all spectators. Halftime will feature TOPSoccer youth teams playing games on the field and a special acknowledgment by the SNSF - "City of Champions", where all high school Indiana State Champions from the past 12 months will be recognized. Also at halftime, the Shindigz National Soccer Festival will be making a huge announcement. 2012 will bring, for the first time, a new International participating team to the festival to challenge Indiana University and Notre Dame in two not-to-miss games on August 16 and 18. Finally, the entire April 21st game will be televised on all screens in the stadium and for the adults; the TinCaps have agreed to have "Thirsty Thursday" prices, $1 beers, even though the game is on a Saturday.
Tickets can be purchased at Parkview Field in advance or the night of the game for $9 adults and $7 for students or at the five Connolly's Do It Best locations. Join us on Saturday April 21st at 6:30 pm for outstanding college soccer and a festival that is sure to bring Fun for All. For additional information, contact Terry Stefankiewicz at (260) 705-3967.
The Shindigz National Soccer Festival has grown to include the spring Kickin' It At the Diamond as well as the annual multiday Festival in August. Teams attending the festival over the years have won 39 of the 53 NCAA Division 1 National Championships and many of the teams competing this August have performed very well in recent NCAA tournaments. Check the website for updates. http://www.NationalSoccerFestival.com.