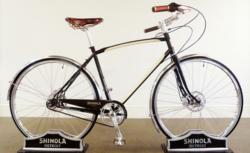 The fact Shinola is making it happen in Detroit—in the USA—shows the kind of dedication and passion which originally made US products exceptional.
Hoboken, NJ / New York City, NY (PRWEB) January 29, 2013
Though Detroit has a history linked to transportation, its future may be dramatically influenced by the comeback of the bicycle if a newcomer manufacturing marvel, Shinola, has anything to say about it. Shinola, a name known for premium shoe polish during the first two world wars is now revitalizing bike manufacturing and recapturing the pride of owning a quality US-made product.
eMazzanti Technologies, Shinola's IT partner and computer consult, became so enamored with the new bike line that it bought the #002 and #003 production bikes coming off the line.
"When I realized how much quality was being built into Shinola's line of bikes, I couldn't resist buying some of the first production run," noted Carl Mazzanti, chief executive officer, eMazzanti Technologies. "And, the fact Shinola is making it happen in Detroit—in the USA—shows the kind of dedication and passion which originally made US products exceptional."
"Made in the USA" Competitiveness Reborn
How is Shinola bringing back US manufacturing? The combination of highly skilled and productive labor, tightly managed production costs, a more efficient sales process, and the generous use of IT technology is making it possible.
For example, the sales process is now more efficient because a Windows 8-powered tablet is used to demonstrate the Shinola product line to potential buyers. This new sales tool provides instant information sharing worldwide and speeds up the manufacturing process as well.
"We imagined a computer on which we can flip through the inventory easily," says Andy Olsen, Planning Manager at Shinola. "It had to be a tangible experience that would allow us to show buyers a selection of products to choose from. We wanted to be able to connect to our business, our people, and our customers at any time and from any location."
eMazzanti Delivers a Windows 8 Solution
In April 2012, Shinola worked with eMazzanti Technologies, a Microsoft Gold Partner, to begin using two tablets running the Windows 8 Pro operating system through a consumer preview. Olivier De Boel, Plant Manager at Shinola, has a tablet at the Detroit plant, while Olsen and the company's IT professional use the other tablet at the Dallas office. Windows 8 Pro features a Start screen with customizable tiles that update in real time. "The Start screen is really clean," says De Boel. "You can start any window, any application, or any executable."
As workers move between locations—inter and intra-plant, Windows 8 Pro automatically and seamlessly connects to an available wireless network through Domain Join, a Windows 8 Pro feature that helps protect and manage machines on the domain. "With Windows 8 Pro, I can even connect to the plant cameras and view the business activity from anywhere," says De Boel. "I can even view and unlock access doors for vendors or new employees."
Bottom-line Benefits
As a small company, Shinola is poised to take advantage of the advanced technology available with a tablet running Windows 8 Pro. "Windows 8 integrates seamlessly into our infrastructure," says Olsen. "It has the power and familiarity of a Windows desktop and support for enterprise-level capabilities, which gives us a competitive advantage as a startup."
Shinola is also realizing improved mobility, enhanced productivity and an increase in usability because of Windows 8 Pro intuitive interface.
About Shinola
In the fall of 2011, Shinola, a Bedrock Manufacturing brand, was conceived with the belief that products should be built to last, and they should be built right here in America. As makers of modern, handcrafted watches, bicycles, leather goods, and journals, we are proud to be based in Detroit, a community-minded city with a strong manufacturing legacy. We built our watch factory and bicycle workshop within the College for Creative Studies in the former Argonaut building. As a new company with a storied name, we stand for skill at scale, the preservation of craft, the beauty of industry.
About eMazzanti Technologies
With a company name that sounds more like a purebred, high-performance sports car than a IT support and consulting firm, eMazzanti Technologies is all about delivering powerful solutions in a variety of Outsourced IT services, such as cloud computing, managed printing services, PCI DSS compliance, computer network management, network troubleshooting, business continuity and disaster recovery, green computing, mobile workforce technology, information security, cloud computing, cloud computing services, and business information optimization in the most efficient manner possible. The Hoboken, N.J., firm is located in one of the most densely populated - and competitive - regions in the U.S. It provides business technology consulting services for companies ranging from home offices to multinational corporations in the New York metropolitan area, the United States and throughout the world. eMazzanti Technologies is Microsoft's 2012 Partner of the Year for the third year, WatchGuard's Partner of the Year for three years running and made the Inc. 5000 for the third year in a row. For more information contact: Carl Mazzanti 201-360-4400 or emazzanti.net. Twitter: @emazzanti, Facebook: Facebook.com/emazzantitechnologies.