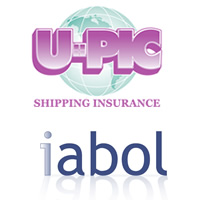 "We are extremely proud to be a partner with ABOL Software and to offer shipping insurance to customers," stated Michele Marasca, Director of Marketing for U-PIC. "This allows ABOL Software to have a competitive edge in this market."
Agoura Hills, Ca (PRWEB) March 28, 2012
U-PIC continues to support ABOL software to deliver complete shipping solutions for any size shipper. Furthermore, both companies are releasing Apps to further assist in the ease of shipping. U-PIC has already released the new U-PIC App, available for download now, which enables customers to purchase, check and track shipping insurance easily . ABOL software will release an updated version of its popular shipping APP soon. The iabol Ship Postal App is designed for mobile processing of USPS Flat Rate Services.
"Our relationship with U-PIC allows us to provide another value added offering to our customers", stated Stephan Roode, Marketing for ABOL Software "We are excited to be working with U-PIC, and look forward to our successful partnership".
Adding shipping insurance to parcels is a seamless process and is worth the cost. Proper packaging can prevent most damage but loss and damage do occur occasionally and when they do, shipping insurance can help.
"We are extremely proud to be a partner with ABOL Software and to offer shipping insurance to customers," stated Michele Marasca, Director of Marketing for U-PIC. "This allows ABOL Software to have a competitive edge in this market."
About ABOL Software:
ABOL Software is a privately held software company founded in 1994. ABOL streamlines the flow of information between customers, shippers and processes. By supporting high-speed processing and architecture for large volumes, their systems automate the shipping process and manage compliance for all supported carriers.
iabol.com offers a multi-carrier integration which allows customers to save dramatically on shipping costs and eliminate shipping errors. The fully automated shipping software is flexible enough to support individual users that ship only a couple of packages a week to large enterprises that ship thousands of packages a day. Users can access the software from anywhere through an internet browser, multiple sites can use the same version which allows for centrally managed ability. Different roles with permissions can be assigned to users.
For additional information about this release, contact Director of Marketing and Sales, ABOL Software, Inc., 413 Creekstone Ridge, Woodstock, GA 30188, http://www.iabol.com
Ship Anytime, Anywhere
About U-PIC
For the past 22 plus years, U-PIC has been providing discounted shipping insurance, saving customers thousands of dollars per year. This allows customers to secure the value of their goods being shipped at a fraction of the cost. U-PIC not only offers low competitive rates, but state of the art methods of purchase, reporting, claims filing and premium payment. And claims are paid within 7-10 business days. U-PIC maintains a friendly staff of dedicated Claims Agents with years of claims experience, ready to assist you with any questions along the way. Our goal at U-PIC is to make your claims experience as fast and painless as possible. Ship with the carrier and insure with U-PIC.
For additional information about this release, contact Michele Marasca, U-PIC
29800 Agoura Road, Suite 200, Agoura Hills, CA 91301, http://www.u-pic.com 800 955-4623
CONTACT:
Michele Marasca
U-PIC – Shipping Insurance
800 955-4623
http://www.U-PIC.com