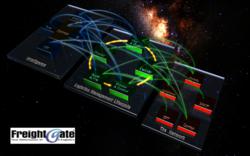 Huntington Beach, California (PRWEB) January 31, 2013
Freightgate, a global provider of Cloud Logistics Solutions, announced that CaroTrans, a leading global NVOCC (non vessel operating common carrier) and ocean freight consolidator, has successfully deployed Freightgate's new SpotQuote Solution. CaroTrans is using the solution to improve its spot quoting capabilities and more efficiently respond to customer freight requirements. The Logistics Cloud solution will support CaroTrans goal to deliver the highest level of customer-focused, reliable consolidation and deconsolidation services in the U.S..
SpotQuote is part of Freightgate's Logistics Cloud Platform, known as the Freightgate Universe. The SpotQuote module is designed to help logistics providers, such as CaroTrans, to quickly route, price and spot-quote shipments for various modes of transportation. The intelligent, interactive, online system allows CaroTrans to efficiently compile a professional looking quote accounting for all aspects of the complex LCL market.
Using SpotQuote, CaroTrans will continue to grow its global service network to serve market demand for direct, expedited LCL/FCL import and export services. SpotQuote intelligence features includes FMC compliant capabilities, pairing flexibility with ease-of use, adding or modifying surcharges to tailor them to a given customers' needs and send them out with the click of a button.
Lueder Bitter, CaroTrans, National Import Operations Manager, said, "We are very pleased with this new state of the art module as it is easily the best looking quote in the industry. It gives our team higher productivity, increased flexibility and our customers a quotation that is easy to understand yet has all pertinent information in one place. "
Martin Hubert, Freightgate, President, said, "The new spot quote highlights the power of the Freightgate Universe platform, bringing our users a rich, best in class user experience. We look forward to rolling these and other enhancements out to all customers in the coming weeks."
Freightgate's Logistics Cloud Platform, known as the Freightgate Universe, enables solutions empowering professionals on all levels to collaborate with global vendors and logistics providers seamlessly on a single common transportation sourcing platform for informed decision-making across the entire network. It encompasses ISO9001:2008-certified end-to-end transportation management processes from procurement, rate management, optimization, execution and visibility, carbon footprint, through invoice audit & pay. The Freightgate Universe is comprised of adaptive easy-to-deploy modules to help companies leapfrog into the 21st century with minimal start-up cost. Freightgate is the only commercial EFM compliant platform enabling standardized web-services as promoted by the US-DOT and Transport-Canada.
Partner with Freightgate. To schedule a No-Obligation Demonstration of Freightgate Logistics Cloud Solutions, please complete form at: http://www.freightgate.com/test_drive_home.php or call Gary Chisamore at (609) 301-5662 or Martin Hubert (714) 799-2833. Email: sales(at)freightgate(dot)com
About Freightgate
Based in Huntington Beach, California, the Freightgate team has been developing Internet solutions for the freight and logistics since 1994, such as its industry-leading Logistics Cloud Platform, with Supply Chain Collaboration & Visibility; TMS, Global Tender Bid Management; Least Cost Routing, Service Contract and Quote Management; Regulatory Compliance CBP and FMC; Automated eInvoice Audit and Payment; innovative What-If-Scenario Analysis tool; interactive online Sailing Schedule. Freightgate is ISO 9001:2008 certified. Visit Freightgate at: http://www.freightgate.com
About CaroTrans
Established in 1979, CaroTrans International is one of the world's leading NVOCCs providing global LCL, less than container load, and FCL, full container load services. Through our network of offices in Asia, South America, Oceania, and the United States, along with our strong local partners, we offer a global reach that is truly unique.
CaroTrans is a people driven company with dedicated, experienced and knowledgeable team members who engage customers with passion and experience on a local level. For additional information, visit http://www.carotrans.com