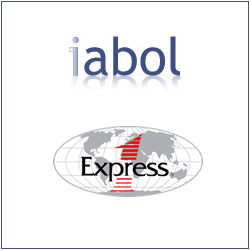 Together with the US Postal Service, we will be able to offer world‐class shipping products and services and pricing that will be attractive to every small and medium‐sized business", said Maik Goettel, CEO of ABOL Software.
Woodstock, GA (PRWEB) July 25, 2011
There's Never Been a Better Time To Ship and Save With The USPS
With world‐class service, the largest delivery network in the U.S., and upfront pricing, you'll get shipping solutions that will truly help your business grow.
· No one else delivers to virtually every address in the Unites States
· No one else excludes all of the expensive add‐on fees such as fuel, residential and Saturday
delivery surcharges, and pick‐up fees
· No one else delivers to PO Boxes
· No one else can offer the security and federal‐backed protection for all your packages
Express 1 is now part of the ABOL platform which allows customers to benefit from discounted USPS rates. Current and new customers now have more tools than ever to save on domestic and international Priority and Express Mail products and services.
Express 1 is a perfect fit for ABOL's Global Vision which includes international inbound and outbound shipping with multi‐site capability. With ABOL the customer has complete control over shipments and visibility across shipping sites. Express 1 is able to provide discounts for any size business no matter volume.
About ABOL Software
ABOL Software, Inc. is a global software provider of transportation management services. Based in Atlanta, GA, ABOL Software began developing freight management systems in 1994 and has grown steadily to become a recognized industry leader. ABOL Software offers powerful SaaS (Software‐as‐a‐Service) business solutions known for their flexibility, scalability and ease of integration. For more information, visit our website at http://www.iabol.com.
About Express 1
For the past 15 years, Express 1 has served over 100,000 businesses using a Philosophy of Innovation – A vision to create a better model to meet consumers' needs. As a United States Postal Service Solutions Provider, our primary focus is to bridge the gap between people, process and technology. This approach ensures our ability to recommend optimal Shipping Solutions with a wide range of efficient and cost saving benefits specifically designed to meet our customers' current and evolving shipping needs.
Express 1's mission is to provide solutions and ideas that enable timely, pro‐active and progressive systems changes for the competitive progression of a customer's shipping operation. As a USPS Solutions Provider, Express 1 is able to provide discounts primarily for the small to medium‐sized business by offering rates that maximize savings and increase profits.
###