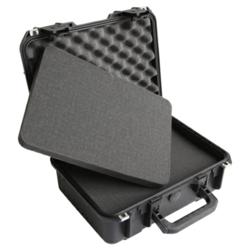 The KR-1510-06 is a reusable general-purpose shipping case for industrial manufacturers and other professionals that rely on delicate electronic devices."
Montclair, CA (PRWEB) October 25, 2011
Industrial strength protection is the only solution for OEMs that must transport sensitive equipment to customers or trade shows. When failure is not an option, the only choice is the new CaseCruzer KR-1510-06 Carrying Case.
The KR-1510-06 is a reusable general-purpose shipping case for industrial manufacturers and other professions that rely on delicate electronic devices. Monitors, meters, widgets and computers are always in need of rugged packing solutions. The same for medical components, test and calibration instruments, or trade show prototype displays.
The case offers three interior configurations: pre-scored foam, solid foam or empty. Inside dimensions are: 15.00" L x 10.38" W x 6.00" H. For foam customization, it is recommended that dimensions of desired items going into the case be one inch less than interior length, width, and height.
The size is comparable to the Pelican 1450 and the Storm iM2200. It comes with the same lifetime guarantee and reputation for protecting against damaging vibration and rough handling.
When empty, the 5.8 lb carrying case innovation is lighter than comparable designs, yet its ultra high-strength polypropylene copolymer resin molded exterior makes it 2.5 times stronger.
The easy-trigger latch system provides fast access to contents and has been named best on the market. The latches can be retrofitted with Transportation Security Administration (TSA) accepted key-locking latches. Either way, when open the heavy-duty lid remains upright at a 90-degree angle.
Although the KR-1510-06 is not a carry-on case or designed with embedded wheels, its snap-down rubber over-molded cushion grip handle makes it easy to carry and lift.
CaseCruzer carrying cases keep valuable contents protected against theft with padlock stainless steel holes and protector clips. Civilians will be pleased to know that the padlock features comply with new military security regulations. A molded-in hinge adds even more protection.
The case is also water submersible (MIL-C-4150J) thanks to a gasket design that keeps the case dust and water tight. It is fitted with an o-ring seal and automatic pressure release valve (MIL-STD-648C). And it is resistant to corrosion and damage caused by sudden impact (MIL-STD-810F). The exterior also guards against UV rays, solvents and fungus and can withstand temperatures ranging from 210° F to -40° F.
The CaseCruzer KR-1510-06 packs a lot into one space. Reliability, durability and peace of mind always come along for the ride.
The CaseCruzer network of companies provides the community with the most comprehensive packaging solutions available on reusable carrying cases for applications such as Communications, Photography, Computers, Electronics, Weapons, Medical, Transportation and other industrial shipping and carrying case uses. For more info about the new carrying case, visit http://www.casecruzer.com; call 800-440-9925 in the U.S. or 909-613-1999 internationally; fax 909-465-5598; or write to CaseCruzer at 4665 State Street, Montclair, CA 91763.
# # #