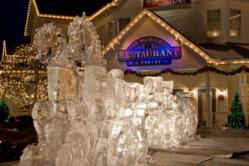 We enjoy having seasonal visitors see first-hand Shipshewana during the holiday season.
Shipshewana, Indiana (PRWEB) December 18, 2012
Weaver Furniture Sales and Shipshewana welcome seasonal travelers to experience the 2012 Shipshewana Ice Festival. Just like last year, visitors will be amazed by the stunning ice sculptures created in Shipshewana, Indiana. This year, incredible depictions of animals and buildings will bring an extra dose of wonder to your holiday. A three-day extravaganza will give visitors the chance to soak in the beauty of ice sculptures like never before.
On Thursday, December 27th from 10am-8pm, teams of expert ice carvers will create breathtaking sculptures sharing a common theme. Then on Friday, December 28th, the carvers will create their own ice sculptures at a carving contest outside the Davis Mercantile. Finally, on Saturday, December 29, a chili cook-off outside the Davis mercantile will give a final chance to view the stunning ice sculptures and get some delicious chili. Prior to this event, visitors can even purchase a collector's pin to gain free access to the chili cook-off.
The 2011 Shipshewana Ice Festival featured ingenious designs, including a nearly life-sized horse, an enormous nutcracker modeled after the traditional Nutcracker Ballet and a miniature grand piano. The 2012 festival will surely bring many new designs and judges will be on hand to award prizes for the top finishers.
Those interested in exploring more of Shipshewana, Indiana will love this town's countless shops and stores, most of which are owned and operated by local Amish families. Weaver Furniture Sales store owner Ida Weaver enjoys the Christmas season, stating, "We enjoy having seasonal visitors see first-hand Shipshewana during the holiday season." To check out authentic Shipshewana Amish furniture and other stores, visit Weaver Furniture Sales and explore their large showroom full of solid wood furniture for the entire home or visit their website and see Amish furniture styles such as the Amish Heritage Furniture Collection.
About Weaver Furniture Sales:
Weaver Furniture Sales was established in 1989 in Shipshewana, Indiana, and is an Amish, family-owned furniture business that offers a full line of solid wood, Amish Furniture at affordable prices – for both residential and commercial purposes. Weaver Furniture Sales features shaker styles, traditional and mission furniture. As part of their client services, Weaver Furniture Sales provides furniture design consultation services, custom furniture options, furniture quotes, layaway options and various delivery alternatives for residences and businesses in the United States from their quiet country showroom in Shipshewana, Indiana.
LeRoy and Ida Weaver have owned and operated Weaver Furniture Sales for over twenty-three years, beginning with a 1,500 square foot showroom and expanding to over 15,000 square feet today. Previously, they owned and managed LeWana Dairy Farm where they milked cows and raised corn and hay.