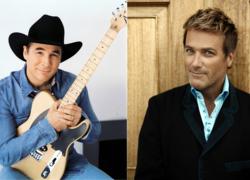 The Blue Gate's 2013 season will feature over 300 concerts and performances...
Shipshewana, IN (PRWEB) October 31, 2012
Clint Black, Michael W. Smith, Gaither Vocal Band, Ronnie Milsap, Gatlin Brothers, Charlie Daniel Band, Marty Stuart, Sandy Patty, Rhonda Vincent and more will all perform in Shipshewana at the Blue Gate Theater in 2013. All tickets are on-sale now.
The Blue Gate will also feature their self-produced and now nationally distributed hit musicals "Half-Stitched" and "The Confession" based on New York Times Bestselling books by Wanda Brunstetter and Beverly Lewis respectively. The musicals have been wildly successful not only in Shipshewana but also in Sugarcreek, OH and Bird-in-Hand, PA.
The 2013 season, the Blue Gate's 11th, will feature over 300 concerts and performances January through December. Most concerts will be held at the Blue Gate theater located downtown Shipshewana, with the Signature Concerts being hosted at the Shipshewana Event center located just a quarter mile south of the Blue Gate on SR5.
Signature Concerts in 2013:
May 22 - Guy Penrod
May 23 - Don Williams (Preshow: Red Roots)
May 24 - Charlie Daniels Band (Preshow: Red Roots)
May 25 - Michael W. Smith
May 30-31 - Sandi Patty
Jun 12 - Ronnie Milsap
Jun 13 - Larry Gatlin & The Gatlin Brothers
Jun 14 - Jubilee! Booth Brothers, Legacy Five & Greater Vision
Jun 15 - Gaither Vocal Band
Aug 28 - Annie Moses Band
Aug 29 - Phillips, Craig & Dean
Aug 30 - Mark Lowry & Friends
Aug 31 - Clint Black
Sept 26 - Big Comedy Night with Ken Davis & Jeff Allen
Sept 27 - Larnelle Harris, Wayne Watson, Twila Paris & Steve Green
Sept 28 - Marty Stuart & Connie Smith
Dec 6 - A Collingsworth Christmas
Dec 7 - Ricky Skaggs & The Whites Christmas Show
Tickets can be purchased online at http://www.BlueGateTheater.com, by phone at 888-447-4725 or in person at the Blue Gate Theater. Customers can call the boxoffice for more information. The Blue Gate Theater is part of the Riegsecker Marketplace, a family owned business in Shipshewana founded by Mel and June Riegsecker.