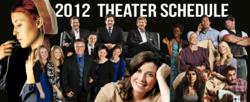 5 Grammy winners, over 270 performances and concerts, and two musicals based on books by New York Times Bestselling Authors.
Shipshewana, IN (PRWEB) March 07, 2012
Shipshewana Blue Gate Theater's 11th season includes a broad selection of outstanding entertainers that include 5 Grammy winners, over 270 performances and concerts, and two musicals based on books by New York Times Bestselling Authors.
It's a season of soul-searching drama, belly-shaking humor, and spirit-lifting musicals, presented as only the Blue Gate Theater can. It's more of the terrific performances Shipshewana audiences have come to expect from their resident home for outstanding family-friendly entertainment. Marketing Director Andy Rohrer said the coming season will serve up an impressive banquet of productions. "We think everyone will find that this season is a big step up in the type and quality of entertainment that people have been able to get in the region. We're sure these plays and concerts will be intensely enjoyed -- designed to touch, inspire, and thrill the heart."
The Blue Gate kicks off its Signature Concert Series on May 4th with Bluegrass and Country Music Legend Ricky Skaggs, and follows on May 5th with 6-time Country Music Group of the Year Sawyer Brown. Both concerts will start at 6pm at the Shipshewana Event Center. Later in the year the Blue Gate will host Ernie Haase and Signature Sound, Amy Grant, Guy Penrod, Ray Stevens, Diamond Rio and their Annual Christmas Piano Extravaganza.
On April 24th, the hit musical "The Confession" based on the New York Times Best Selling book series by Beverly Lewis opens for its second full season. The musical, adapted by playwright Martha Bolton, with music written by Wally Nason, will run through August 18th. "It's a brilliant love story and a keep-you-at-the-edge-of-your-seat mystery all wrapped into one," says songwriter Wally Nason. And show producer Dan Posthuma adds, "Beverly Lewis is a remarkable storyteller. She has given us a rich plot, with compelling characters that courageously confront their past, their future, and their faith. And the music! You'll have a hard time deciding which tune to hum on the way home."
Then on August 24th the Blue Gate will present the world premiere of the new musical "Half-Stitched The Musical". Based on the new book by New York Times bestselling author Wanda Brunstetter, the musical explores the differences between an Amish widow and the six "english" folks that decide to join her beginner's quilting class. Lots of humor, awkward situations and a few life lessons ensue, and it all adds up to a great time for the audience. "Half-Stitched" will run through Dec 8th.
Tickets for the 2012 Season are on sale now.
Visit http://www.BlueGateTheater.com for tickets and more information.
Information about Group Sales for 12 or more patrons may be obtained by contacting bgate@riegsecker.com or by calling 888-447-4725
The Blue Gate Theater is located in Shipshewana, the heart of Indiana Amish Country. They host nationally recognized acts and world class musical productions in a family-friendly environment. The Blue Gate is part of the Riegsecker Marketplace, a family owned group of stores, restaurants and other businesses.
Just the facts…
What: Blue Gate Theater 2012 Season
When: April 24, 2012 - December 31, 2012
Where: Blue Gate Theater - 175 N. Van Buren St, Shipshewana, IN 46565
Tickets: See the full schedule and purchase tickets at BlueGateTheater.com
Prices: Musicals $29.00, Concert Prices vary widely by artist, please see website.
Discounts for children, seniors, and groups.
Box Office: (888) 447-4725
Internet: http://www.BlueGateTheater.com