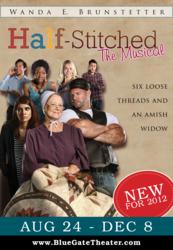 The Blue Gate Theater is privileged to announce the World Premiere of the musical comedy "Half-Stitched" an adaptation of Wanda E. Brunstetter's New York Times Bestseller
Shipshewana, IN (PRWEB) August 17, 2012
The Blue Gate Theater is privileged to announce the World Premiere of the musical comedy Half-Stitched an adaptation of Wanda E. Brunstetter's New York Times Bestseller, The Half-Stitched Amish Quilting Club. The VIP Premiere for partners, government, local business partners and press will be held on August 25th at 7:00pm at the Blue Gate Theater in Shipshewana, IN.
This is the second time the Blue Gate has adapted for the stage from this literary genre. It's groundbreaking first musical The Confession presented the Amish Love Story in a new and moving way. This second musical will be a musical comedy, exploring the never-ending opportunities for humor when an Amish widow attempts to teach a group of "English" folks ("English" is the Amish word for non-Amish) the fine art of quilting. Brunstetter, is a pioneer in Amish fiction and took a large step outside her usual storylines to write Half-Stitched.
The story follows Amish widow Emma Yoder's first quilting class as it brings the most unlikely people together. A troubled young woman, a struggling couple, a widower, a rough and tough biker, and a preacher's wife make up the mismatched lot. But as these beginning quilters learn to transform scraps of material into beauty; their fragmented lives begin to take new shape with the helping hands of each other and the healing hand of the teacher.
This new musical is filled with poignant and heart-stirring ballads, as well as humorous songs. When the best and worst of each members lives collide, when Emma's patience and faith is tested - Half-Stitched emerges as an entertaining and powerful musical, filled with fun and emotion for the entire family.
Half-Stitched runs August 24 - December 8, 2012 at the Blue Gate Theater, 195 N Van Buren St. Shipshewana, IN. Tickets are $29, group and senior discounts are available, and may be purchased by phone at 888.447.4725, online at BlueGateTheater.com or at the Blue Gate box office in Shipshewana. Groups of 12 or more are encouraged to call Blue Gate Hospitality at 260.768.4725.
Wanda Brunstetter is an award-winning romance novelist who has led millions of readers to lose their heart in the Amish life. She is the author of over 60 books with more than 6 million copies sold. Many of her books have landed on the top bestseller lists, including the New York Times, Publisher's Weekly, CBA, ECPA, and CBD. Wanda is considered one of the founders of the Amish fiction genre, and her work has been covered by national publications, including Time Magazine and USA Today.
Blue Gate Theater:
The Blue Gate is a landmark restaurant and theater complex located in Shipshewana, IN on SR5 and is part of the Riegsecker Marketplace owned by Mel and June Riegsecker and family. The Theater offers family friendly entertainment year round and is well known in the Midwest for Christian, Country, and Southern Gospel Concerts and Family Friendly Musicals. Accessible via US 20 or via the 80/90 toll road exits 108 and 121.