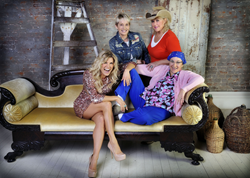 The Southern Fried Chick's humor encompasses the gamut of women's experiences with no apologies or excuses.
Shipshewana, IN (PRWEB) March 04, 2015
The Southern Fried Chicks Comedy Tour is the best "Girls Night Out" show on the road today. Starring Etta May, Sonya White, Karen Mills, and Trish Suhr, the Southern Fried Chicks is the top-grossing female comedy tour — performing to sold-out theaters across the country and will be in Shipshewana on Friday, March 6th at 7pm.
The Southern Fried Chick's humor encompasses the gamut of women's experiences with no apologies or excuses. This hilarious and often irreverent take on female life exposes the myth that women can have it all. These comics hold nothing back as they reveal their faults, failures, and shortcomings. Audiences will laugh out loud as they relate to experiences common to all women, and will find that laughing through the difficulties beats crying through them. Patrons will leave the theatre feeling like they have been on a mini-vacation with their best friends.
Etta May is known as the "Queen of Southern Sass" — she gives the straight-up truth like few have the guts to. Born in Bald Knob, AR, the only girl in a family of 10 children, Etta May grew up a survivor with a rusty spoon in her mouth. She married an ex-truck driver, had four kids of her own, and quips that three out of her four kids have a parole officer, but other than that, life has been good. As she says, "My show is more like a public service announcement, once you see my life, you're going to feel a whole lot better about yours."
Winner of the prestigious American Comedy Award, Etta skillfully weaves the audience through her life story, that is not only funny, but makes attendees feel like they're sitting in their living room talking to their best friend. Her style and delivery secures her spot as a comedy legend. She has appeared on Oprah, Showtime's Aspen Comedy Special with Jerry Seinfeld and Sunday Morning on CBS, and she stole the show with her hilarious performance on The Comedy Store's Anniversary Special, on NBC. She is an audience favorite on syndicated radio shows such as Bob & Tom, Blue Collar Comedy, and Laugh USA. Look for Etta May on new standup shows like Laughs on Fox, and Comedy Stage on CMT.
Sonya White, originally from Virginia, combines Southern charm with big city smarts. She boasts national television credits such as Fox Network's Nightshift, and the Family Channel's Big Brother Jake, and has done colorful national promos for Jerry Springer and his infamous The Jerry Springer Show. Also known for her dead-on impersonations and sound effects, Sonya is truly an urban lady as the featured comedienne for Verizon Wireless on their Fun and Games movie accessory option — nothing says "city girl" quite like that!
Karen Mills first started entertaining crowds in the sports arena. She played college basketball at the University of Tennessee in Chattanooga where she earned All-American honors and was inducted into the Hall of Fame. Karen is a veteran comedian who has worked with Jon Stewart, host of The Daily Show on Comedy Central, and was contributing writer for the Rosie O'Donnell Show. Karen grew up in the small town of Cleveland, TN, but after graduating from college moved to Atlanta, GA. Thanks to good books, good therapy, and of course, Oprah, this one-time country bumpkin has evolved into an enlightened, forward-thinking woman of the world.
Trish Suhr began her stand-up career in Los Angeles after leaving the family funeral business in her hometown of Middlesboro, KY. Since her arrival, she has become a regular performer on the longest running all-female comedy show Pretty Funny Women and is featured on The Southern Belles of Comedy DVD, starring Brett Butler. Television credits include Girls Behaving Badly and her regular gig as co-host of The Style Channel's Clean House. Trish has also been to Afghanistan several time performing for US troops.