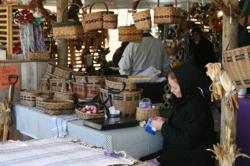 (PRWEB) September 23, 2011
A host of family-friendly festivities are planned for the 10th Annual Fall Crafters Fair September 29 through October 1 in Shipshewana.
Located in the heart of northern Indiana's Amish country, Shipshewana is the site of one of the finest crafters' fairs in the region. Quilters, carvers, painters, cloggers, musicians, crafters and food venders of all types will fill the town and its many quaint shops with the sights, sounds and smells of autumn.
Craft fair organizer Chuck Ray says he expects over 75 of the best crafters from throughout the Midwest to participate in this three-day event. Crafters will be open for business from 9 a.m. to 6 p.m. each day. They can be found in tents in the parking lot west of The Blue Gate Restaurant and at various locations throughout town.
Cynthia Joyce and her daughter, Peggy Dennis, from Fort Wayne, IN are returning as vendors for the eighth year. The pair do machine embroidery on clothing and Cynthia says the Fall Crafters Fair is their favorite in the region.
"We've done 14-15 different shows in the past and this is one of the better shows in the area," says Cynthia. "Last year, we could do only one show because of my husband's health, and we chose Shipshewana. This is a family-friendly show with a lot of variety. There are a lot of neat things for the entire family to do."
Cynthia says she has welcomed to her booth visitors from as far away as California, Florida and Canada. Visitors can expect all types of crafts, from embroidery to wood crafts, stained glass, handmade jewelry, woven baskets, quilts, handmade soaps, bent metal and candles.
In addition to the crafters, the fair features a special area just for children. Among the activities and exhibits there will be miniature buggy rides, exotic animals, full-size and miniature horses and other livestock.
A special exhibit of John Deere tractors, along with a chainsaw carver and a live threshing demonstration are among the more unique features of the fair. Other demonstrations will include quilting and apple butter making. Past American Bull Whip Cracking Champion Chris King from Archibold, Ohio is expected to draw a crowd with his unique "sport".
A highlight of the fair every year is the Gospel Sing. Each evening, a slate of musicians will take the stage at The Blue Gate for a 7 p.m. ticketed event. During the afternoons, the same performers will be found at various locations throughout the fair grounds. Featured will be the gospel-singing Balos Family, popular "Johnny Cash"-style folksinger John Schmid and country gospel performers The Glen Clark Family Singers and The Bontrager Family.
Mel Riegsecker, owner of The Blue Gate and organizer of the Fall Crafters Fair, invites fairgoers to spend a day or a weekend soaking up the flavors of fall in rural Indiana. Shipshewana is located on Ind. 5 just five minutes from the Indiana Toll Road, or three miles north of U.S. 20 on Ind. 5. Numerous cabins, bed and breakfasts and 475 motel rooms are available in the area. For information about lodging in and around Shipshewana, visit the town's official Web site, http://www.shipshewana.com.
###