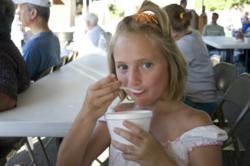 Everyone is invited to come enjoy homemade ice cream... a hog roast, free music and more
Shipshewana, IN (PRWEB) July 10, 2012
On July 14th Riegsecker Marketplace, the Blue Gate Restaurant and Theater and the Shipshewana Retail Merchants is hosting the 4th Annual Shipshewana Ice Cream Social. The events will be held in the street and in the adjoining parking lot next to the Blue Gate from 4pm till 9pm.
Everyone is invited to come enjoy homemade ice cream made by a horse (driven by a treadmill) and steam engines, a hog roast, free music and more. Attendees are encouraged to bring a lawn chair for the free concert in the evening starting at 4pm featuring the Schwartz Family. This Country Gospel group hails from Sturgis, MI and is a local favorite. The Helmsmen (also from Sturgis) and McMillen and Life will also perform.
People are encouraged to come early to town and enjoy the 150 specialty stores and attractions in downtown Shipshewana. The event is a thank you to the local community for their patronage and support and will be great fun for the whole family.
The Riegsecker Marketplace is a family owned business and is home to the Blue Gate Restaurant and Theater, Craft Barn, Shipshewana Furniture Company, Hitching Post and a new Frozen Yogurt Shoppe coming in August. It has been located in downtown Shipshewana since 1984.
More information about the Ice Cream Social and the Marketplace can be found online at http://www.Riegsecker.com.