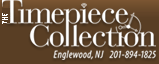 Englewood, NJ (PRWEB) July 22, 2012
Timepiece Collection Ltd. called on Crooked Brook to embroider their polo shirts. The polo shirts were an Ashworth Men's style 1139, EZ-Tech Piqué Polo, in Black and White.
The Timepiece Collection logo was embroidered on the left chest; Black logo on White shirts and White logo on Black shirts.
Polo shirts are also called "polos" or tennis shirts and they became so popular on golf courses, people started calling them golf shirts. Although the words "polo shirt" and "golf shirt" are used interchangeably, the term "polo shirt" is more popular. In the sport of polo, polo shirts are called polo jerseys.
Logo embroidered polo shirts are part of the uniform for many businesses. Polo shirts embroidered with a company logo given as gifts or giveaways are called promotional polo shirts or golf shirts and are great way to build brand awareness.
About Timepiece Collection Ltd.
Housing the world's best watch brands and styles under one roof, The Timepiece Collection, owned by Jeffrey Khalaf and Michael Rosenberg, has been serving watch enthusiasts since 2001. During its eleven-year history, The Timepiece Collection has grown rapidly, constantly adding new brands and building strong relationships with its customers and the community.
Recently the store opened a brand new 3,500 square-foot store at the most prominent corner of downtown Englewood, New Jersey. The expansion will allow The Timepiece Collection to better showcase its existing brands by providing larger display space and in-store boutiques while adding new brands to its repertoire. Most importantly adding jewelry and luxury accessories to complement its almost 40 watch brands.
About Crooked Brook
Crooked Brook is a unit of the atelier division of an art studio that offers full service apparel design, pattern making, sample making, private-label small lot production and embroidery. Since 1989, they've built a strong reputation of providing top-notch apparel designs, patterns, fit and production samples for many brand name catalogs and retailers, as well as wardrobe and costumes for movies, television and theater.
All Crooked Brook branded garments and accessories are proudly made to order in the U.S.A.
Because of their unparalleled attention to detail in tailoring, they were awarded a Supima® licensing agreement. These contracts are not awarded lightly. The applicants must meet requirements insuring the highest level of quality and integrity for any products bearing the Supima® brand.
In addition, Crooked Brook designs and manufactures:
Men's and women's chef jackets , casino, spa, resort, hotel, chef and restaurant uniforms as well as alumni chef jackets for the Culinary Institute of America. Each garment can be personalized with the customer's choice of fabric, pockets, buttons, piping and embroidery.
With a design studio in New York City, (the fashion and gastronomic capital of the world) and a production facility in Utica, New York, they've garnered international brand name recognition as the maker of the "World's Highest Quality Chef Jackets™".
Promotional products, items, decorated apparel and accessories, such as;custom embroidered jackets, hats, polo shirts, fleece blankets, sweatshirt blankets, custom embroidered shirts, embroidered hoodies, embroidered fleece vests, embroidered golf shirts, custom t-shirts, tote bags, custom embroidered sweatshirts and aprons that can be customized with the following apparel decorating methods:
Embroidery
Tackle Twill
Appliqué
Direct to Garment Printing (DTG)
Sublimation
Custom lab coats uniforms and scrubs for nursing, medical, dental, scientific, engineering, technology & healthcare professionals.
Custom made apparel and accessories for men and women, including but not limited to: suits, shirts, Hawaiian shirts, pants, vests, dresses, skirts, gowns, jeans, boxer shorts, martial arts and yoga outfits.
Crooked Brook ships worldwide. Hours of operations are 7:00 a.m. to 7:00 p.m. EST, seven days a week. Reach them at (315) 733-1992 to learn more.