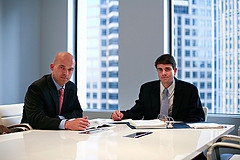 Atlanta, GA (PRWEB) June 02, 2015
Shiver Hamilton, LLC is pleased to announce the opening of two new locations in Savannah, Georgia and St. Simons Island, Georgia. After representing Georgians from their Atlanta headquarters since founding the firm, founding partners Jeff Shiver and Alan Hamilton expand their firm to service clients in south Georgia and north Florida.
Shiver Hamilton, created in February 2011 when Jeff Shiver and Alan Hamilton split off from two prominent personal injury firms, has grown quickly in 4 years and amassed some impressive results. As noted in the Fulton County Daily Report, in three years since the firm's founding, Shiver Hamilton has recovered over $50,000,000 in verdicts and settlements. (Fulton County Daily Report, Rising Stars 2014, August 18, 2014).
"We look forward to another round of strategic growth," said partner Jeff Shiver. "Some of our most notable recoveries involve cases south of Macon. Referring lawyers and clients are responding to our client-centered approach and we are thrilled at the opportunity to expand our footprint."
Alan Hamilton commented, "In July, we expect to try a tragic brain injury case involving a pedestrian in Glynn County State Court. Earlier this year, we resolved another significant negligent security case in Savannah. It makes sense to open offices near our expanding client base for their convenience."
Shiver Hamilton focuses on personal injury trial work and handles cases throughout the Southeast. The Firm limits its caseload to those involving significant injuries in order to thoroughly prepare each case for jury trial.
For more information, call (404) 593-0020 or visit http://www.shiverhamilton.com.