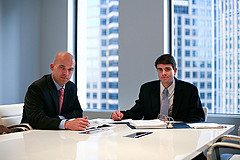 At trial, every question, every witness, every piece of evidence must have a purpose and move you toward your goal.
Atlanta, GA (PRWEB) March 31, 2014
Jeff Shiver, co-founder of the Atlanta-based personal injury law firm Shiver Hamilton, spoke to the Atlanta Bar Association at a Continuing Legal Education seminar at the State Bar in downtown Atlanta on Jan. 13, 2014. The seminar, titled "Expertise in Plaintiff Personal Injury Law," featured 11 Atlanta-area attorneys, each recognized as experts in their subject matter, addressing an audience of practicing attorneys.
Shiver's presentation, "Presenting Evidence at Trial: Effective Deposition/Cross Examination Strategies," reviewed state law regarding cross examination and offered "Five Practical Tips" for effective cross examination, offering the audience the benefit of his expertise as one of Georgia's leading trial lawyers.
Among the tactics, practices, and advice Shiver shared:
Identify Your Goals: Every question, every witness, and every piece of evidence at trial must have a purpose and move the attorney toward his or her goal. A lawyer must have clearly defined goals before cross-examining a witness. Shiver further cautioned attorneys not to cross-examine witnesses simply out of a perceived need to say something. Often, not asking questions demonstrates that an attorney was not hurt by a witness's testimony.
Stay Behind the Wave: Don't become overly aggressive with a witness before he or she has given the jury an opportunity to see that he or she is being evasive or deserves to be treated aggressively. Some witnesses, Shiver cautioned, should never be aggressively cross-examined.
Don't Give the Witness the Wheel: Ask concise questions that the witness cannot credibly refute. Don't leave the witness an opening to offer a statement or opinion counter to the answers you want him or her to provide. When possible, limit your questions to one fact per question when possible, allowing a narrative to unfold with each answer.
Prepare, Prepare, and Prepare Some More: Whatever the topic, the attorney should know more about it than the witness. A lawyer may not know more about anesthesiology than an expert retained by the other party, for example, but he or she can know the facts of the case, the patient's medical history, and testimony given during deposition. Skilled attorneys may create a "decision tree" that anticipates any possible answer a witness may give, allowing the attorney to prepare second or follow-up questions.
Be the Better Witness: Shiver stressed the importance of an attorney regarding him or herself as a witness, and treating their arguments, cross examinations and statements as testimony. He further emphasized the need for an attorney to avoid quibbling with a witness, to not try too hard to make a point, to keep the cross examination on track, and to show the jury that he or she knows the facts of the case better than the witness.
About Jeff Shiver
Jeff Shiver has repeatedly been named one of the state's "Legal Elite" by Georgia Trend magazine. He was named one of 13 lawyers under 40 "On the Rise" by the Fulton County Daily Report in 2011, has been recognized as a "Top 40 Under 40" attorney by the National Trial Lawyers, and was recently named a "Top 40 Under 40" litigation lawyer by the American Society of Legal Advocates. He has also been honored as a "Georgia Rising Star" by Super Lawyers in 2007, 2009, 2010, 2011 and 2012.
About Shiver Hamilton
Shiver Hamilton is an Atlanta, Georgia-based personal injury firm specializing in significant personal injury, negligent security, premise liability and representation of victims of rape or sexual assault. Shiver Hamilton provides its services free of charge unless the victim recovers compensation. To learn more about the firm, please visit http://www.shiverhamilton.com or call 404–593–0020.