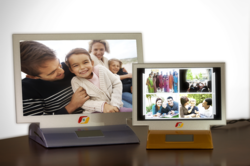 ...share your precious moments privately, without requiring complex social media interactions, and without creating yet another public online profile.
Minneapolis MN (PRWEB) February 20, 2013
Shobii Inc. (http://www.shobii.com), an early-stage technology startup, has announced it is launching a project today on Kickstarter.com for a reimagined "smart" photo frame that is connected to a private, cloud-based photo-share network.
"We want to make it easy for our parents, grandparents, siblings, and other family members all over the world to enjoy family moments privately, without requiring complex social media interactions, and without creating yet another public online profile," said Farhan Muhammad, Shobii's founder and CEO.
The Shobii™ smart frame connects to the Internet using WiFi and is integrated with the private photo sharing network on Shobii.com. Using the Shobii smart frame and private network, family members can "pair" their frames with each other's subscriptions and share their precious moments privately, and directly with each other's frames. There is no need to remember yet another cumbersome username and password. Nor is there a need to navigate complex social networks. The photos that are shared with the user's frames just show up within a few seconds.
The frame can also connect with a Facebook account. Users simply select the friends and albums they care about, and instantly enjoy their photos. It also integrates with Flickr to give users the ability to search using keywords to fill the frame with photos that fit their mood.
Shobii™ smart frames, featuring a touchpad for easy use, will be available in two sizes, 15" and 10", expected to be priced at $239 and $199, respectively, when available later this year. Kickstarter backers can order the frames at significantly discounted prices combined with free subscription offers.
Advantages vs. Older Technology Photo Frames

Sharing via private cloud network is much more reliable, secure, and worry-free compared to previous photo frames that rely on email, which is rife with spam and malware problems.
The screen resolution with Shobii™ frames is 1280x800, compared to the lower-quality 800x600 resolution of other photo frames.
Shobii™ frame users can display their photos using any of variety of attractive "themes," a feature not available on other frames.
Shobii™ frame users can also filter the photos they want displayed by relationship, album, name, and tags. Again, these are features not available on other frames.
With the Shobii™ frame, users will also be able to upload photos via an iOS or Android mobile app.
About Shobii Inc.
Shobii (http://www.shobii.com) is an early-stage company based in suburban Minneapolis, Minnesota USA. The idea for the Shobii™ smart frame and its companion private photo-sharing network took shape when the company's founder started a family in 2007. He searched everywhere for an easy-to-use frame and a completely private photo sharing network, so he could share the photos of his children with close family members. The complete unavailability of such a system prompted him to start building his own solution in 2008. After four years of hard work and many revisions later, the Shobii™ smart frame, along with the Shobii™ private network, was unveiled on Kickstarter on February 19, 2013. The company is using Kickstarter to raise sufficient funds to manufacture these frames in large numbers and to finish software development for the private network. Those who believe in the need for this product and want to share their photos while maintaining strict privacy and retaining ownership are encouraged to back the Shobii project on Kickstarter: http://www.kickstarter.com/projects/1930633706/shobii-smart-frame-with-a-private-photo-share-netw.