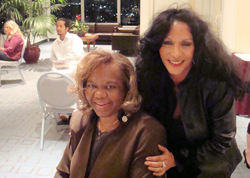 We at ShoBizOne Boutique are very excited and honored to work with Heroes and Legends for this very important event
Beverly Hills, Ca (PRWEB) April 10, 2009
ShoBizOne Boutique (http://shobizoneboutique.com/), a couture designer resale boutique offering the latest designer fashions at a fraction of the cost, is partnering with non-profit organization Heroes and Legends Scholarship Foundation to present a star-studded charity mixer in Beverly Hills to raise funds for the organization's scholarships. Evening With The Stars will take place on Friday, May 15 from 6 p.m. to 9 p.m.
"We at ShoBizOne Boutique are very excited and honored to work with Heroes and Legends for this very important event," says Cherisse Goedhart of ShoBizOne Boutique. "Money raised from Evening With The Stars will ultimately provide several worthy students the funds necessary to continue their educations after high school. ShoBizOne Boutique is proud to help ensure the event is a success."
At the Beverly Hills charity mixer on May 15, attendees will have wonderful fun for a very worthy cause. Attendees will receive keepsake photos from the event, be entertained with great music and receive free food and drink. A $100 donation is requested for attendance, all of which will be directed to the foundation's scholarship fund.
Many celebrity guests and Motown legends will be in attendance at the mixer, including singer and actress Freda Payne, Claudette Robinson (The Miracles), Scherrie Payne (The Supremes), Hank Dixon (The Originals), songwriter Marilyn McLeod ("Love Hangover"), county-western star Sandy Kastel and many more.
The deadline for this year's Heroes and Legends scholarship is June 21, 2009. Winning students will be presented their scholarships at the foundation's 20th Annual Awards Dinner in September at the Beverly Hills Hotel. Applications for this year's scholarships are open to students 17-24 years old. Students can download an application and apply from ShoBizOne Boutique's Web site at http://shobizoneboutique.com/.
The Heroes and Legends charity mixer Evening With The Stars, supported by ShoBizOne Boutique, takes place Friday, May 15 from 6 p.m. to 9 p.m. at the Roxbury Park Community Center at 471 S Roxbury Dr., Beverly Hills, California. For tickets and information call (310) 274-1609.
For more information about Heroes and Legends, visit http://www.myspace.com/halscholarshipfund.
About ShoBizOne Boutique
ShoBizOne Boutique brings fine designer wears from within the network of celebrity circles, meaning you don't have to be rich to own fine fashions from designers like Manolo Blahnik, Chanel, Versace, St. John, Valentino and Dior. ShoBizOne Boutique offers these authentic designer items at a fraction of their retail cost. All items are guaranteed 100 percent authentic.
# # #