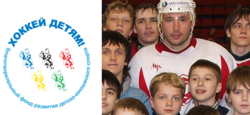 "Shockbox is a tool for our parents and trainers to be better educated" (GM Streetsville Tigers)
Ottawa, ON (PRWEB) June 04, 2013
Many youth, school and university hockey and football teams are using Shockbox technology in their helmets to warn against repeated blows to the head and impacts that require a sideline assessment for concussion. The Shockbox helmet sensor technology was developed by Impakt Protective, and sends alerts direct to a sideline smartphone over 325ft (100m) away. The 1 ounce (29 g) sensors trigger on linear and rotational accelerations to the head and send raw data to be decoded in a smartphone App.
Now the prestigious Moscow charity, "Hockey for Kids" has adopted the innovative technology in Russia in partnership with the Hockey Moscow Sports Society. Former NHL'er and Olympic team captain, Slava Fetisov partnered with Shockbox to bring the technology to Russia. Fetisov, the Chairman of the Board of Trustees for the charity and a winner of back to back Stanley Cups with the Detroit Red Wings said that "Shockbox technology provides the data necessary for management decisions of player assessment to avoid tragic consequences."
The Moscow Hockey Charity joins other teams and leagues in the US and Canada that have adopted Shockbox helmet sensors as part of their risk and safety measures. Recently, the Toronto based Streetsville Hockey club adopted Shockbox across all of its nine teams. Streetsville GM Frank Trachsler said, "We really wanted to increase the safety for our players," adding that, "Shockbox is a tool for our parents and trainers to be better educated."
Impakt Protective CEO and co-founder Danny Crossman, a former Army Bomb Disposal Officer who led the development of the bomb suit featured in the hit movie The Hurt Locker, as well as the first helmet sensors for the US Army and US Marines said, "We are glad to partner with the Moscow Charity and have their validation of the Shockbox sensors for their 8,000 players." Crossman also said that, "Since 2010, Shockbox is now being widely used in football, lacrosse and snow sports with clinical research being conducted at university and league levels to validate the technology."
With the recent bans of body checking by Hockey Canada and USA Hockey at Peewee levels, research conducted at Carleton University Sports Medicine in 2012 found that significant head impacts occurred even in non-contact hockey despite contact rules. "Shockbox is one tool in the team toolkit to gather data and warn staff when to check a player for symptoms," says Crossman, "Research is key to Shockbox development and provides the validation for any new technology in sports medicine."
Impakt Protective will be presenting Shockbox technology at the Ontario Minor Hockey Association (OMHA) AGM this coming June 7-8th in Toronto, ON as part of the Hometown Hockey event.
For further information on the Shockbox or Impakt Protective, or to schedule an interview please contact:
Danny Crossman 613‐271‐3780 x 250 or danny(at)impaktprotective(dot)com
For information about the Streetsville Tigers Hockey Club contact:
Frank Trachsler (GM Streetsville Tigers) - palo1(at)sympatico(dot)ca