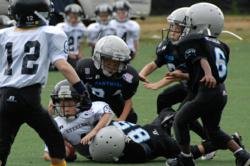 ".....This is a vital tool in the identification and management of concussions" said Crossman
OTTAWA, Ontario (PRWEB) October 19, 2012
Impakt Protective Inc., is pleased to announce that two leading Chicago area organizations, Pop Warner Football and Amateur Hockey Association of Illinois (AHAI) teams will start using Shockbox wireless helmet sensors from Impakt Protective. The sensors will be inserted into youth football and hockey helmets to measure the frequency and magnitude of hits to the head. The announcement comes as concussions and accumulated impacts to the head have generated interest and concern in youth sports.
Impakt is using the sensors to begin a new research study to determine how these indicators can potentially be useful in minimizing concussion. In addition, the sensors also allow coaches and trainers to record and maintain a history of head impact data for each player and assist them in making more informed decisions from the sideline for players who may be at‐risk of receiving a later concussion.
"Impakt Protective is thrilled to be able to conduct a study with a Pop Warner team and an AHAI team to help uncover critical information on head impact exposure" said Danny Crossman, CEO of Impakt Protective. "Shockbox is now on teams across the US and Canada in professional and minor league football and ice hockey. This study will add to the important research we have developed on adult athletes".
"The new wireless helmet sensors are part of a wider program of concussion management and enable researchers and teams to receive data and alerts on the number and severity of hits a player receives which are then sent to a Smartphone instantly. This is a vital tool in the identification and management of concussions," said Crossman. Studies have shown that many concussions go undetected and that multiple concussions can lead to serious lifelong physical and cognitive health issues.
About Impakt Protective Inc.
Incorporated in 2010, Impakt is a privately owned high‐tech sensor company located in Ottawa, Canada and the creation of Danny Crossman and Scott Clark. Danny Crossman, a former Army bomb disposal officer and Business Development executive, led the development of numerous life‐saving technologies such as the bomb suit, featured in the movie The Hurt Locker; Advanced Combat Helmet impact pads; roadside bomb jammers used by the USMC and recently the Helmet Impact Sensors used by US Army and USMC to monitor mTBI in deployed soldiers and marines. Scott Clark is an active hockey player, coach as well as hockey Dad, and a former software high tech executive with experience in E‐Commerce products and payment providers.
# # #
For further information on the Shockbox or Impakt Protective, or to schedule an interview please contact: Lindsay Donnelly 613‐271‐3780 x 260 lindsay@impaktprotective.com or Danny Crossman 613-698-8752 danny(at)impaktprotective(dot)com