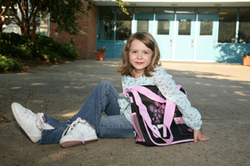 Ensuring a child wears a shoe that fits properly is paramount to keeping feet healthy during the school year
Bethesda, MD (Vocus) August 20, 2009
As parents across the country check off school items from their shopping lists, remember one of the most important purchases that can be made for children this season -- foot-friendly shoes. Whether on the school bus, in the classroom or on the playground, a properly constructed and well-fitted pair of shoes can drastically reduce a child's risk of injury, from conditions such as blisters to more serious injuries such as tendonitis, sprains, strains and even fractures.
"Ensuring a child wears a shoe that fits properly is paramount to keeping feet healthy during the school year," said APMA President Ronald Jensen, DPM. "By taking just a few extra minutes to examine a shoe before purchase, parents can rest assured that their child will be keeping their feet safe to and from school, as well as during the busy school day."
One easy way to determine if a child's shoe is foot-friendly is to perform the "1,2,3 Test." First, press on both sides of the back of the shoe's heel. Make sure that it does not collapse when pushed on. Second, check toe flexibility. The shoe should bend with your child's toes, but should not be too stiff or bend too much in the toe box area. Third, grab the shoe by the front and back and twist gently. A foot-friendly shoe should never twist easily in the middle.
Here are several more shoe shopping tips to help start the school year off on the right foot:

Take your child shoe shopping. Letting a child have a say in the shoe buying process promotes healthy foot habits down the road.
Examine the heels. Children often wear through the heels of shoes faster than outgrowing the shoes themselves. Uneven heel wear can indicate a foot problem that should be checked by a podiatrist.
Look for the Seal of Acceptance. Certain footwear brands, such as the Reebok Classic Leather Collection and Asics' GEL-Nimbus model, carry the APMA's Seal of Acceptance. APMA's Seal program recognizes products that set the benchmark for footwear and foot care industries, and have been evaluated by a team of podiatrists to guarantee proper foot function.
Remember socks when shopping. Make sure to have your child try on shoes with socks or tights, if that is how they will be worn, in order to ensure a proper fit.
For more tips on foot health, visit http://www.apma.org . For a full list of children's footwear that has received the APMA's Seal of Acceptance, please click here.
Founded in 1912, the American Podiatric Medical Association (APMA) is the nation's leading and recognized professional organization for doctors of podiatric medicine (DPMs). DPMs are podiatric physicians and surgeons, also known as podiatrists, qualified by their education, training and experience to diagnose and treat conditions affecting the foot, ankle and structures of the leg. The medical education and training of a DPM includes four years of undergraduate education, four years of graduate education at an accredited podiatric medical college and two or three years of hospital residency training. APMA has 53 state component locations across the United States and its territories, with a membership of close to 12,000 podiatrists. All practicing APMA members are licensed by the state in which they practice podiatric medicine. For more information, visit http://www.apma.org .
###