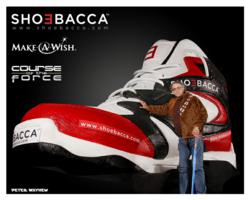 You know…when I first heard of Shoebacca, I couldn't help but bring a smile to my face, remarked Peter Mayhew.
SANTA MONICA, CA (PRWEB) July 03, 2012
Course of the Force is excited to announce a partnership with SHOEBACCA.com, a leading online retailer focused on "active lifestyle" footwear, for its inaugural five-day lightsaber relay which begins at the Santa Monica Pier on Saturday, July 7th. Participants in Course of the Force will come dressed in their favorite Star Wars™ or popular culture-themed costumes and hand off a custom Hasbro Ultimate FX Lightsaber at quarter-mile markers to the next runner. The relay finishes in downtown San Diego, home of the San Diego Comic-Con International®.
The partnership with SHOEBACCA.com specifically includes an opportunity for fans to meet Peter Mayhew ("Chewbacca" from Star Wars) in the SHOEBACCA.com hospitality area. Mayhew will greet Star Wars and SHOEBACCA.com fans alike and autograph pictures. Donations for Peter's autographed picture will benefit Make-A-Wish®. On a recent visit to SHOEBACCA.com's warehouse and corporate offices, Peter remarked, "You know…when I first heard of Shoebacca, I couldn't help but bring a smile to my face."
The Course of the Force/SHOEBACCA.com partnership will also include the debut of SHOEBACCA.com's newly refurbished 20-foot long, 11-foot tall "Big Shoe" at hospitality areas. The "Big Shoe" had once been used as a prop in the Walt Disney Pictures film series Honey I Shrunk the Kids. The "Big Shoe" will be on display during each of the Course of the Force conival exhibits. "It should come as no surprise that Guinness World Records is now involved," says Tim Siemers, Marketing Director, SHOEBACCA.com.
Peter Mayhew will autograph pictures of himself beside the "Big Shoe" at the SHOEBACCA.com hospitality areas at the following times and locations:

Saturday, July 7th 10:00 a.m. – 3:00 p.m., Santa Monica Pier
Sunday, July 8th 4:00 p.m. – 9:00 p.m., Huntington Beach Pier
"SHOEBACCA.com wanted to partner with Course of the Force because this fun event highlights the cool nature of the Shoebacca name, the company's active lifestyle product assortment, and its long-standing commitment to giving back to community," says Clarence Schwab, Board Member at SHOEBACCA.com and Managing Partner of Schwab Capital Management, an independent sponsor and advisory firm.
All fans are invited to enter to win the SHOEBACCA.com GALACTIC GIVEAWAY Sweepstakes, accessible at http://www.shoebacca.com, beginning Saturday, July 7th through August 31st, 2012. The Grand Prize winner will enjoy a full year's supply of shoes from SHOEBACCA.com, a framed and autographed print of Peter Mayhew and a complete set of Shoebacca branded merchandise to share with his or her family. Other prizes include $100 SHOEBACCA.com gift vouchers and SHOEBACCA.com T-shirts, hats and accessories.
Gary Spitalnik, Founder of Cabana Five LLC, is helping activate this event for SHOEBACCA.com.
The Course of the Force is for Star Wars enthusiasts to celebrate their love of the Saga and is held in partnership with Lucasfilm, Ltd., Nerdist Industries and Octagon to raise proceeds for Make-A-Wish®.
On July 7, Course of the Force will kick off with an event at the Santa Monica Pier at 10:00 a.m. The relay will start later at 1:00 p.m. and end that night at the Redondo Beach Pier (Daily Schedule per chart below). Other planned stops include Huntington Beach Pier, Oceanside and Crystal Pier at Pacific Beach. Fans have the opportunity to participate in the historic lightsaber relay by registering online now at CourseoftheForce.com.
Giving Course of the Force a true fan's touch, Nerdist Industries' founder Chris Hardwick will be joined by co-hosts Ashley Eckstein of Her Universe and Alex Albrecht and Alison Haislip of Nerdist. They will follow the action from the Course of the Force lead vehicle, a replica of Jabba the Hutt's sail barge, and broadcast to fans across the world on StarWars.com and the Nerdist YouTube channel (youtube.com/nerdist). They will be joined by special guests from the Saga and pop-culture to put on an epic celebration for both the fans in attendance and watching online.
RESOURCES
Website:
http://www.shoebacca.com
http://www.courseoftheforce.com
Facebook:
facebook.com/shoebacca
facebook.com/courseoftheforce
Twitter:
@SHOEBACCA
@CourseOtheForce
Google +
plus.google.com/115453549641613644557/posts
plus.google.com/103291298159790820268
Pinterest:
pinterest.com/shoebacca/
pinterest.com/courseotheforce/
YouTube:
youtube.com/shoebaccatv
youtube.com/nerdist
CONTACTS
SHOEBACCA.com
Tim Siemers
(972) 812-3181
tim(at)shoebacca(dot)com
Octagon
Adam Harris
(919) 531-0500
adam(dot)harris(at)octagon(dot)com
Nerdist Industries
Courtney Thompson Pisarik
(310) 860-0806
courtney(at)InkPRGroup(dot)com
Lucasfilm Ltd.
Chris Argyropoulos
(415) 623-1018
chris(dot)argyropoulos(at)lucasfilm(dot)com
About SHOEBACCA.com
SHOEBACCA.com is a full-scale online retail footwear company dedicated to helping customers and their families lead active, healthy lifestyles. SHOEBACCA.com boasts an impressive selection of over 250 premium brands and over 30,000 styles of athletic shoes, outdoor shoes, fashionable shoes & boots, bags, sunglasses and apparel.
Lucasfilm, the Lucasfilm logo, STAR WARS™ and related properties are trademarks and/or copyrights, in the United States and other countries, of Lucasfilm Ltd. and/or its affiliates. TM & © Lucasfilm Ltd. All rights reserved. All other trademarks and trade names are properties of their respective owners.