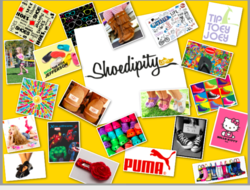 Shoedipity.com is unique in that we offer everything from fun, fit, functional, and fashionable.
Los Angeles, CA (PRWEB) April 22, 2013
Shoedipity.com, the newest online destination for children's footwear and apparel announced its launch January 2013. It offers fashion-forward, high-quality baby, toddler and children's footwear, apparel and accessories, including Pediped, Stride Rite, Tsukihoshi, Havaianas, Native Shoes, Jessica Simpson, Minnetonka, Michael Kors, Puma, and more. Additionally, a sprinkling of brand-name shoes for women is available.
Co-created by three lifelong friends, Shoedipity.com was formed from the combination of their collective 35 years of experience in the footwear industry and being parent shoppers themselves. The creative mind behind Shoedipity.com is Matthew Brooks, who is part of the family-owned and operated Brooks Shoes for Kids, a 48 year-old Los Angeles shoe emporium, with eight locations throughout Los Angeles. Matthew's wife, Tiffani Brooks, is a working mother of two and Shoedipity's Social Media expert. Add to the team Kimberly Baker, a decade-long shoe merchandiser and fit expert, and Shoedipity.com was officially complete. Together, the trio set out to create a shopping experience that worked for busy parents with an inventory for active kids of all ages.
What sets Shoedipity.com apart from the competition is its tailored selection of competitively priced shoes, wide array of styles, brands and sizes, all on a fun and user-friendly site. Whether it's a need for athletic, dress, casual, sandals or boots, Shoedipity.com will always provide multiple options of each. Matthew Brooks states, "Shoedipity.com is unique in that we offer everything from fun, fit, functional, and fashionable. Whatever your need: a structured school shoe to a colorful sandal with embellishments – we have what you are looking for. We cater to the parent shopper – one stop shop with accessories and excellent customer service."
Learn more about Shoedipity.com by visiting http://www.shoedipity.com.
###
Marketing by ITC