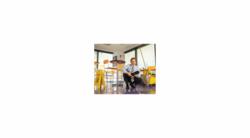 Our goal, like most businesses, is to expand profitably. We're also proud to do our small part in keeping the economy moving forward by hiring new employees
West Palm Beach, FL (PRWEB) September 29, 2011
With the national unemployment rate still hovering around 10%, the stock market in turmoil, and corporate earning adjustments being announced daily, finding substantive signs of success in this economy can be difficult, to say the least.
For one company in South Florida however, the "Great Recession" has been a time for renewed growth in terms of both revenue and new hires. Shoes For Crews® (SFC), the global leader in slip-resistant footwear, has "footholds" in virtually all of the largest Food Service chains, including McDonald's, Burger King, Wendy's, and YUM's Brand, helping them to dramatically reduce employee slips and falls—the primary cause of work-related injuries and worker's compensation costs in this industry. In fact, Shoes For Crews has shoe programs with 87 of the top 100 largest restaurant chains in the USA and services over 140,000 workplaces world-wide.
Shoes For Crews is betting on the future by gearing up for global and domestic expansions. In fact, unlike most of the companies around the USA who are re-trenching and fearful of the future, Shoes for Crews has hired approximately 25 new executives, mid-level managers, and entry-level employees over the past 8 months.
Shoes for Crews has over 220 employees in their West Palm Beach headquarters and has just moved into a new 37,000 sq foot office space. They also have approximately 500 world-wide employees.
Matthew K. Smith, CEO of Shoes For Crews stated, "We believe strongly that we can grow without the help of a vibrant economy. Shoes for Crews has the benefit of a heritage brand, unique product, strong customer service, and superior logistics capabilities. Our Executive Team feels that if we hire talented and experienced executives and sales professionals to expand our market reach, we will increase our market-share in domestic and international markets."
Though SFC has been aided by macro-economic resilience within the Food Service industry, much of their growth can be attributed to their patented slip-resistant technology, proven to be more effective than competing brands.
The unique business model of Shoes for Crews has also helped in its 26 years of growth. Corporate customers generally don't buy Shoes For Crews . Shoes For Crews sells its footwear to the employees of the large restaurant chains paid for via corporate payroll deduction programs. Participating corporations save considerably on reduced employee slips & falls, workers' comp claims, and insurance premiums. (But the program does not cost them anything.) The voluntary program is also a benefit to the employees, who receive safe, comfortable, and affordable footwear.
Mr. Smith, believes their growth to be more the direct result of a culture that embraces listening to customers' needs: "We engage our customers regularly, soliciting feedback on service offerings, products, and we take it very seriously. This has led to an expanded assortment, with many new ideas actually coming from the customer!"
R&D efforts have actually expanded their industry lead in slip-resistant technology. The recent launch of the V-Grip® outsole, is designed to elevate performance of their new SFC Pro® line of professional grade work boots for the Industrial community (which includes a "Who's Who" of customers: Anheuser-Busch, Kraft, Campbell's and Heinz).
SFC, cleverly using "25 Years and Still Gripping" as a themeline that conveys both purpose and longevity, has also invested in penetrating Healthcare, Supermarket, Industrial, and Hospitality industries. According to Smith, "these verticals represent a significant portion of our annual growth. It's our goal to become a household name within these industries." With loyal customers including Hilton, MGM and Marriott, they're well on their way.
When most companies are projected to be flat year-over-year, Shoes For Crews is looking to repeat double-digit growth again in 2011. "Our goal, like most businesses, is to expand profitably. We're also proud to do our small part in keeping the economy moving forward by hiring new employees," continues Smith.
"Style" or "comfort" may not be the first thing to pop into your head when you think of "Safety Shoes", but this is exactly what SFC thinks about every day. The result is an assortment that's managed to blend these attributes without compromise, and a customer base that has remained loyal for years.
About Shoes For Crews
Established in 1984, Shoes For Crews has served the needs of the Food Service, Industrial, and Healthcare communities with their top-rated, patented slip resistant outsole for over 25 years. Their Safety Program comes at No Cost to the Employer, and every pair is delivered with guaranteed comfort and durability, all backed by a best-in-class 60 Day "Wear and Compare" Guarantee and Free Exchange policy.
To learn more about Shoes For Crews slip-resistant footwear, please call 1-877-No-Slips (1-877-667-5477) or visit their website at http://www.shoesforcrews.com.
###