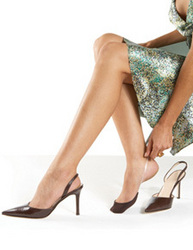 New York, NY (PRWEB) June 12, 2008
This summer, foot comfort can be stylish with No nonsense's Shoe Solutions! No nonsense Shoe Solutions take foot comfort to a new level, offering solutions to pesky everyday problems such as blisters or achy soles. Whatever the shoe, No nonsense takes into consideration footwear needs, offering comfortable options in sandals, thongs, slides or slingbacks.
Whenever a bare legged look is fashionable without the pain of blisters or just some extra foot comfort, No nonsense has a full range of Shoe Solutions to keep feet comfortable all day long.
Brand new No nonsense Shoe Solutions include:
Mesh Foot Liners offer cool breathability to whatever closed-toe shoe being worn, and its flat cotton sole ensures ultimate comfort.
Foot Liners deliver 100% comfort, minus the bulk of socks or pantyhose. Available in cotton, microfiber, and mesh and several silhouettes, foot liners work with everything from loafers to heels.
Toe Covers not only banish summer blisters, they are perfect for dressy mules offering serious comfort with padded cushion and no slip grippers. Made of nylon, they disappear under the shoe, allowing consumers to show off a bare-legged look in confident comfort.
Slingback Liners are a must-have accessory for slingbacks or even mules. Their cotton spandex toe and invisible PVC strap offer pure comfort without compromising style.
Ball of Foot Gels add comfort to every step. Made of technologically advanced gel material, these flexible inserts work in any shoe, preventing sliding as they absorb the shock of every step.
Heel Gels tackle one of the biggest shoe problems -- back of heel blisters. These fabric-covered gels add soft pliable cushioning, so consumers don't have to wear bandaids.
All No nonsense Shoe Solutions liners feature a specially designed "Stay Put" heel to make sure liners don't slide down, whatever shoe is being worn. No nonsense Shoe Solutions liners/toe covers retail 3 pairs for $8.97. Covered in pretty pindot or neutral fabrics, No nonsense® Shoe Solution Gels are reusable and washable. Shoe Solution Gels retail 3 pairs for $10.47. With No nonsense Shoe Solutions, consumers never have to sacrifice comfort for style….
Today, 95% of American women are familiar with No nonsense, while 31 million wear the brand. Plus, No nonsense's recent climb to the #8 ranking on WWD's Top 100 list of brands most recognized by female consumers ages 13-64 is testimony to the brand's enduring relationship with the American woman. For more information, visit http://www.nononsense.com.
Headquartered in Greensboro, North Carolina, No nonsense® is a division of Kayser-Roth Corporation. A leading manufacturer of branded, licensed, and private label legwear and apparel in the U.S., Kayser-Roth brands include HUE® Legwear and Intimates, Calvin Klein Hosiery, and Burlington Socks among others.
# # #